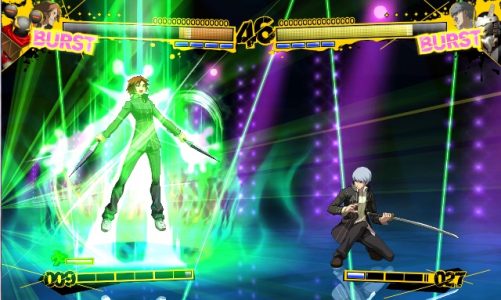 Every now and then we see popular games from one genre, trying their hand at another. Capcom turned their fighting games into Super Puzzle Fighter II Turbo, Pokemon got a Pinball game and plenty of other fine examples. While there are plenty of good examples, there are just as many bad ones too. With this in mind many gamers are unsure how Persona 4 Arena will fare. Turning a RPG series into a fighting game certainly sounds interesting, but it also seems easy to screw up too. With this in mind can Persona 4 Arena surprise fans or is it another Castlevania Judgement?
Lets see what's HOT and what's NOT in our review of Persona 4 Arena.
HOT
Stays True to the Series
For those worried about accuracy you'll be pleased to know that Persona 4 Arena, does a great job of bringing this RPG series to the fighter genre. As you should already know each character has a persona with them, which can be used to aid you in combos or perform certain moves. Additionally every character has some sort of gimmick that makes them interesting. My personal favorite gimmick is Naotos, as it requires you to count how many shots she's fired. If you fire too many shots you will fire a blank and leave yourself open to attacks. However if you perform the move again you will quickly reload your gun. This is just one of the many elements you will find in the game.
Fantastic Artwork
Like most of their games, Persona 4 Arena has some highly detailed sprites. Every character looks unique and looks like the character they're trying to represent. Additionally every character has a number of palettes you can select from and with DLC you can add glasses or get new palettes. Beyond this the levels have amazing detail with a number of references, unique designs, people coming / going and much more.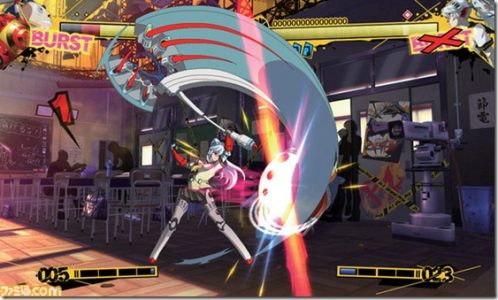 Besides simply looking good it also has it's own unique flare. Upon first starting up the game you will see the menu screen, which has an intersection in the background. This scene will take place at a random time and have certain characters standing around in the background. This also appears in other areas of the game, like with the all out attack as it shows a cloud of dust with cartoony action words like Wham. However my personal favorite element are the instant wins.
Similar to Arc System Works other games, Persona 4 Arena also features over the top finishing moves. However unlike the previous titles this one is more involved. Every character has their own unique animation and some of them are pretty awesome.  Though this shouldn't come as a surprise when one of them is named "The Man Series: Brofist" and shows Kanji and his Persona finishing you with a Brofist (connecting fists).  Finally if you happen to purchase the DLC glasses they will also appear in the finishing move animations. Sure it's a minor detail, but it makes some like Kanji's look more badass.
Action Packed Music
Among the many things Persona 4 Arena gets right, is the soundtrack.  Just about everything sets the mood for an awesome brawl. Going into a match you will have some nice guitar rock music to get you pumped up and the actual matches feature various types of action packed music. Almost everything suits the genre perfectly, so you're sure to get into it while playing.
Plenty of Unlockables
As you progress through the game you unlock a number of items. One of these are Navigators, who basically encourage you during an online fight. Another thing you can unlock are different announcers. Finally for those looking to spend a lot of time online you're in luck. There are hundreds of phrases you can unlock by doing something, which can be used to make your own title. These phrases have a lot of range, so you can expect to have a lot of fun with them.
Persona 4 Arena Review

,