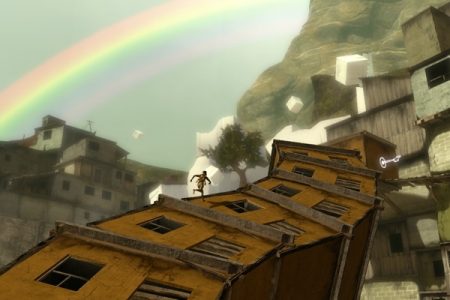 Papo & Yo is a new game that comes to us from the minds of not likely well known developer Minority Media. The title has released exclusively on the Playstation Network this summer as part of the PSN Play promotion. The story in the game focuses on Quico, a child living through what seems to be imaginary torment, but is it really all that imaginary? Papo & Yo is quite the interesting tale, and has certainly gained it's fair share of hype since being announced.
Regardless, everyone has seen games not live up to hype. The question here seems to be: is Papo & Yo worth playing? Let's take a look at what's HOT and what's NOT in our review of the game.
HOT
Heartfelt Story
Though the story in Papo & Yo may feel like it takes a bit to pick up, it plays out to be well worth it in the end. The game begins with the main character Quico cowering in a corner, in hopes that he may not be seen by "Monster". This figure is later, rather cryptically revealed to be Quico's father. Monster, despite his name, starts off as a fairly peaceful character. He loves eating and will wander aimlessly around your current area eating everything in sight. This changes slightly later in the game when he encounters what one would see as a harmless hoppy frog.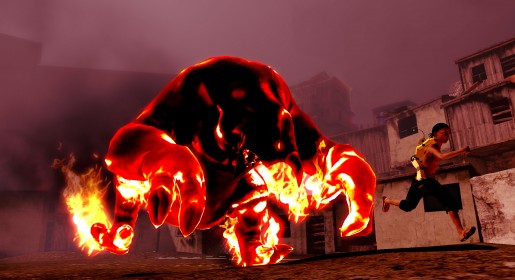 As you might be able to assume, due to Monster's "hungry" nature, he will go out of his way and make these frogs a priority consumption.This is something you'll definitely want to watch out for once you realize the demented undergoing. You can avoid this scary result by smashing the frogs against walls, but speed is of the essence since Monster is surprisingly quick for his size.
Again, not all of this necessarily makes sense at first, but progressively becomes understood more and more until it just hits you towards the very end. The game will likely take you three to four hours total, which isn't too bad, but better value has been seen in the past.
Beautiful Score
From the beginning of the game, all the way to the final credits, the score is just amazing. While it can be subtle at times, it can also be striking at the right moment. At no point will you be limited to simple background noises, which can really get you into the moment. For instance, you might hear Monster snacking, but it will be overshadowed by a fine melody of sounds that make it seem quite natural.
There are the incredibly moving portions of the game where you can't help but sit and listen to the game's soundtrack. Other times, you won't be able to pause for even a brief second. This doesn't mean you won't notice the music fittingly playing in the background while you play Papo & Yo.
Papo & Yo Review

,