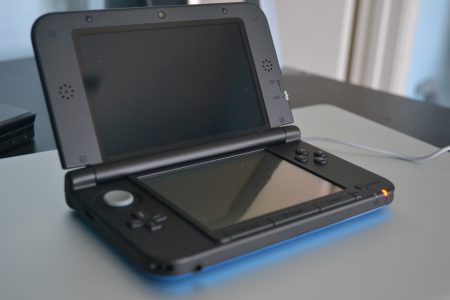 NOT
Flaws from the Original 3DS Still Exists
What we're getting is a much bigger Nintendo 3DS, many assumed that the resolution of the pictures taken from the camera of the handheld will be much better. In fact, the 3DS XL seems to be using the same kind of camera from the old model, making no difference between the two models. If you're thinking of taking pictures using your Nintendo 3DS XL, you might want to use your phone instead as it will most likely have a better resolution.
With a much bigger handheld device, many expected that Nintendo may have somehow improved the battery life. Unfortunately, the times that it will take to deplete the battery is almost the same as the original – taking at least four hours, depending on the settings that you have. Even though the 3DS XL has a much bigger battery, the big screen that it offers on both touch and top screen balances it out by sucking more power on the larger battery, making it almost the same consumption as the original.
In addition to the camera's resolution being the same, it seems that Nintendo didn't improve much on the speakers. When playing games like Resident Evil Revelations and Tales of the Abyss 3D, you will need headphones as the speakers within the handheld won't be loud enough if you're in a mid-sized room.
Another complaint that I have for the 3DS XL is the missing second circle pad. Since many games are optimized for a second analog stick, it would be ideal for Nintendo to include it but unfortunately, they neglected in adding it for some unknown reason. If you bought the Circle Pad Pro for the original 3DS, you will have to re-buy another one for the 3DS XL since the old one will not fit at all.
VERDICT
If you already have the original Nintendo 3DS, you'll want to keep it unless you want a larger screen. The only biggest selling point the Nintendo 3DS XL is the larger screen, but when it comes to the improvements from the original, you'll see some of its major flaws still exists in the 3DS XL. This means the cameras still have poor resolution, the battery life is as awful as the original and the speakers are weak. However, we know for a fact that it can be hard playing on a small screen and if you have cash to spare, or you haven't purchased a 3DS before, get the 3DS XL instead. The larger screen makes playing your favorite or upcoming titles far more enjoyable, even though it's bulkier. Remember, once you go big, you will never go back.
What does our score means? Read our review score policy!
[Editor's Note: The Nintendo 3DS XL was provided to us by the publisher for review purposes.]
Nintendo 3DS XL Review

,