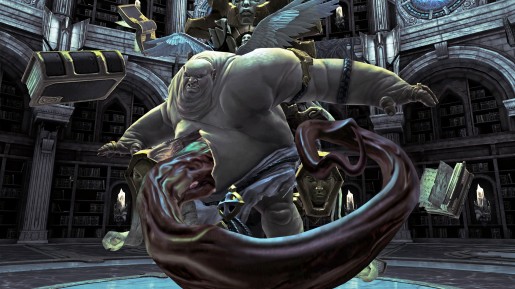 After the successful release of Darksiders II, Vigil Games is hard at work fixing a number of the small glitches that have plagued game. Sometime today, PC gamers will receive a patch, which will address a number of things and also enable 'v-sync'.
As for the console versions, the team is getting ready to submit a patch for both PS3 and Xbox 360. Currently there's no set release date, but it should be shortly after the patch is submitted to both Microsoft and Sony.
Here are the list of fixes on the PC version:
• In this patch your key mappings will revert to defaults.

• Added Key Bindings option to the Pause Menu. (Previous location on the Moves List still there)

• The V-sync graphics option is now functional.

• Reaper Form now triggers correctly when using a Keyboard.

• Video Settings save to the Steam Cloud correctly.

• You can now sacrifice items below the 3rd row in the Possessed Weapon menu.

• Target Reticules align properly at all screen resolutions.

• Addressed crashes in Blackstone, including at the 2nd lever and during the Lilith cut-scene.

• Various gameplay progressions fixes.
For the PS3 and Xbox 360 version:
Xbox 360:

– A few crashes in Blackstone, including at the 2nd lever and during the Lilith cut-scene.

– A crash occurring when proceeding back to the Cauldron after completing it.

– The Custodian falling through the bridge in the Foundry when back-tracking through the dungeon.

– Various fixes for the custodian issues in the Foundry and the Scar

– Progression blocker with the Chancellor, reported after crashing or doing the Crucible before going to the land of the dead.

– Turning in 3 Stones of resistance awards the player properly.

– Improved general stability

PlayStation 3:

– A few crashes in Blackstone, including at the 2nd lever and during the Lilith cut-scene.

– A crash occurring when proceeding back to the Cauldron after completing it.

– The Custodian falling through the bridge in the Foundry when back-tracking through the dungeon.

– Spanish sub titles will be added to the North America version of Darksiders II.

– Players will be able to back up their save without having to use an online save

– Various fixes for the custodian getting fixed in the Foundry and the Scar

– Progression blocker with the Chancellor, reported after crashing or doing the Crucible before going to the land of the dead.

– Turning in 3 Stones of resistance awards the player properly.

– Improved general stability