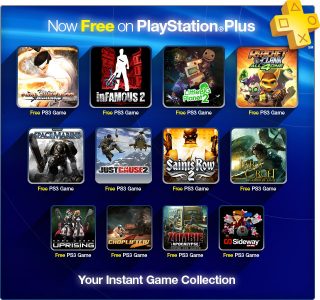 You may have heard last night when Sony announced that this month only, Playstation Plus subscribers would be receiving twelve full games for free with their subscription. Along with that, we revealed that three of the games that would be available starting today would be LittleBigPlanet 2, Saints Row 2, and inFAMOUS 2. Well now we have the complete list of games that will be made available for free today to PS+ subscribers.
Virtua Fighter 5 – June 5th
inFAMOUS 2 – June 5th
LittleBigPlanet 2 – June 5th
Ratchet and Clank: All 4 One – June 5th
Warhammer 40,000: Space Marine – June 5th
Just Cause 2 – June 5th
Saints Row 2 – June 5th
Lara Croft and the Guardian of Light – June 5th
Hard Corps: Uprising – June 5th
Choplifter HD – June 5th
Zombie Apocalypse – June 5th
Sideway NY – June 5th
Sony has not yet made it clear if this is all of the content that subscribers will be receiving for the month, or if this will simply be this week's content, and if the rest of the month will bring more, but we will keep you updated as information becomes available.