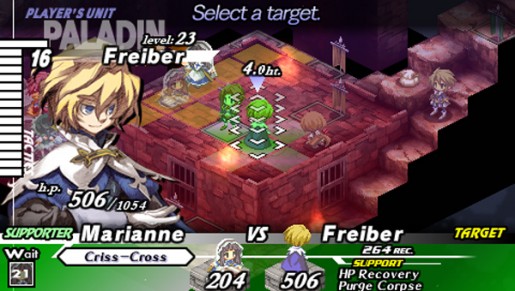 While everyone is talking about the Vita, that doesn't mean the PSP has been forgotten about. With a few titles set to release, PSP owners can further delay their Vita purchase. One of these titles is the interesting strategy RPG, Gungnir. With a Medieval Fantasy setting and a new take on the strategy RPG genre, Gungnir sure sounds like a winner, but is it worth your time?
Let's see what's HOT and what's NOT in our review of Gungnir.
HOT
Story Choices
As you progress in Gungnir, certain events will give you a choice. Some of these are more important than others, like one is a matter of life or death, where as another is about how to raise morale, but they allow you options. Besides simply adding an interactive element to the story, they also determine which epilogue you receive. This is nice since it gives you an excuse to replay and see another epilogue.
NOT
Overly Long and Complex Battle System
While most RPGs follow a cookie cutter format, Gungnir tries to spice things up. The first change is to how turns are handled. You see everything is based off time, so after X time has passed someone can move. Once it's your turn you can freely move a character with ready over their name, wait for your desired character to get ready or just move the character and suffer a HP penalty. As you move your character, make sure to watch your position. This is because which way you face an enemy matters, so face to face has the highest chance at a guard, whereas from behind has no chance. After you've made your move, the next person will make theirs till it's your time again. Typically this will result in the enemy making 2 – 3, so you really need to plan ahead.
As you start to attack the enemy, the game really starts to drag. This is because so many pointless things happen. Like after you attack you see how much experience you gain, specialty and mastery you've gained. This might not sound that bad, but it took me 17 seconds to go from selecting my attack to the enemies turn. Besides attacking, the combat is filled with these worthless time sinks. Like every defeated enemy gets a line of dialog and if they drop loot you need to move there, then examine the bag, etc. After your first couple of fights, these elements will really start to annoy you.
Gungnir Review

,