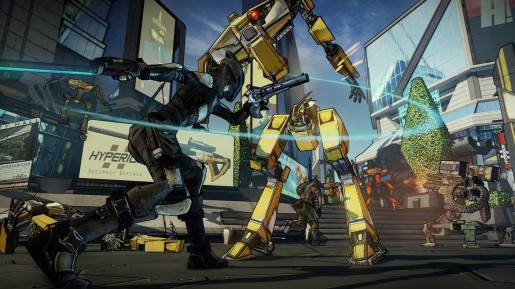 Today I had the opportunity to play the demo for Borderlands 2 and it surpassed my already high expectations. The game takes everything that makes the first entry amazing and multiplies it by 10. Weapons are even crazier and the humor will have you doubling over laughing from all of the hilarious banter that goes on. From what I played today I believe that it will be one of the best shooters we will see this year.
As soon as I got to the demo station I chose to play as Zero seeing as he was playable at the event and I wanted to see what he was all about. I was given 20 skill points to spend in his various skill trees which improved his sniping and assassin abilities. I decided to put most of my points into sniping seeing as I wanted to try and stick to the back of the action while my coop partner, who was playing as the Commando Class character Axton, took the lead and dealt damage up close. This made for a good combination that kept the enemies at bay as my pinpoint accuracy nailed the critical spots from afar while Axton set up a turret and dealt massive damage to the rest of the enemies.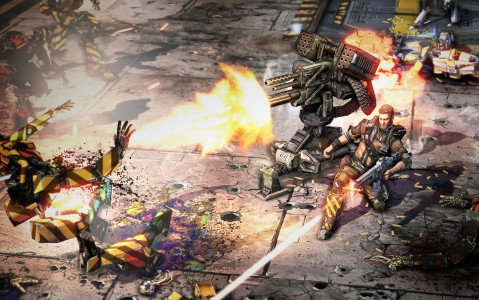 The mission that we were given to play tasked us with destroying statues of Handsome Jack that were strewn around the area. In order to do this we had to hack into an inactive construction bot that had the lasers necessary to cut through the material. After activating it we were tasked with defending it while it was destroying the statues. This was made even more difficult by the hordes of mechs and soldiers that flooded in to stop us from destroying Jack's precious statues. This was made even better by the hilarious commentary Handsome Jack was providing that had me laughing to the point of tears. The humor takes all of the sadistic nature from the first game and amplifies it even more.
Borderlands 2 makes a few big promises that it definitely delivers on. The guns are even bigger and crazier than before and you will literally "joy puke your face off" when you get your hands on this amazing game. I for one am definitely excited for it and playing this demo made the wait for its release that much more painful. Borderlands 2 launches on September 18, 2012 for the Playstation 3, Xbox 360 and PC. Vault Hunters are wanted, are you up for the challenge?