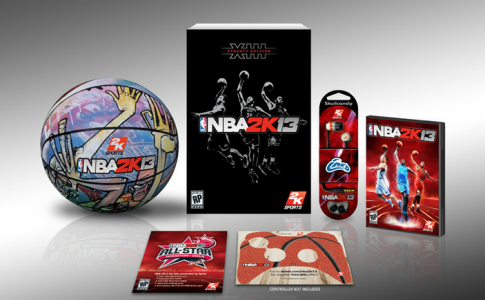 If you're a sports fan, it is probably obvious by now that most franchises receive new iterations yearly to keep up with the current progress. The same goes for NBA 2K13, as we revealed a few month ago. Now we're pleased to show the newly thought up "Dynasty Edition" of the game. This fancy version of the game offers up a copy of the game, as well as some sponsored items, which we have listed below for you to view.
The game itself (no steelbook, as far as we can see)
[Exclusive] Full sized Spalding basketball with basketball art designs
[Exclusive] 2K Sports Custom "Ink'd" SkullCandy earbuds
[Exclusive] NBA 2K13 PS3/Xbox 360 Skinit Skin
This edition of the game will cost $99.99, and will release alongside the regular game. All items listed are pictured above.