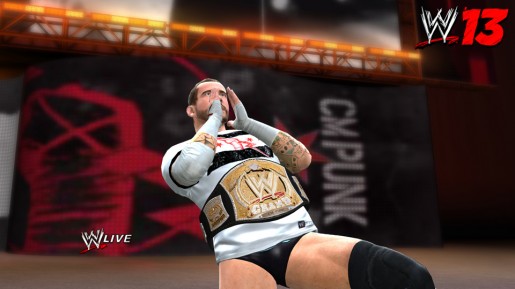 THQ has been revealing new information about WWE '13 left right and centre for the past few days. Here's the first screenshots and other features about the game.
The following are details on the new features wrestling fans can expect to see in the game:
WWE Live: Bring the atmosphere, spectacle, and fervor of a raucous WWE Live event into your living room with awe-inspiring Spectacular Moments and a new audio system that delivers the most authentic and dynamic commentary, sound effects and crowd participation ever in a WWE game.
Relive The Attitude Era: It was a time when Stone Cold Steve Austin battled for supremacy against his maniacal boss, Mr. McMahon. An era where The Rock told opponents to "know your role, and shut your mouth", where the Undertaker threw Mankind off the top of the Hell in a Cell, and D-Generation X broke all the rules. Now, for the first time, relive this groundbreaking era in an all-new single player campaign mode that will make you experience the Monday Night Wars like never before.
WWE Universe 3.0: The fan-favorite WWE Universe mode returns, giving you more control over WWE than ever before. Your choices determine your destiny as you dynamically shape your schedules, television shows, and rosters, and form alliances and make enemies on your way to the top.
Predator Technology 3.0: With new animations, transitions, and modified controls built on the Predator Technology™ game engine, WWE '13 will deliver strategic, fluid, and fun WWE action that plays more smoothly than any prior WWE game.
Create & Share Your WWE: WWE '13's industry-defining creation suite returns to give more ability than ever to create Superstars, arenas, entrances, finishing moves, storylines, and more! Go online and upload your creations to share them with the WWE Universe and download creations from others to add to your own experience.
Roster: WWE '13 has the "biggest roster" ever in a WWE game. So far, confirmed players include: Steve Austin, The Undertaker, CM Punk, Sheamus, Mankind, Big Show, Mark Henry and Chris Jericho. The THQ website says the game will feature 77 playable characters – 38 Superstars, 7 Divas and 32 Attitude Era Legends.
Check out the screenshots below: