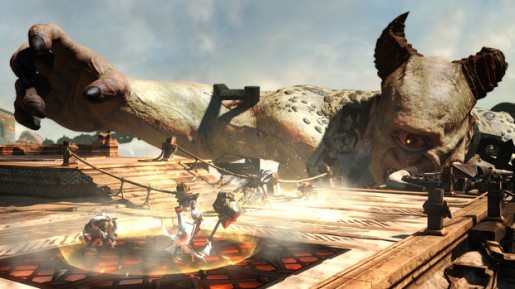 There has been massive uproar, both positive and negative, since God of War: Ascension's competitive multiplayer was announced. There are those who have faith in Santa Monica's new goal for the franchise and there are people who have begun shaking their heads at another single player series seeing the addition of multiplayer. Since a fellow writer and I happen to fall on opposite sides of the spectrum, we decided to make a case in defense of the multiplayer and against it.
PRO
First and foremost, it is important that people acknowledge the fact that Santa Monica isn't taking the conventional route in crafting Ascension's multiplayer. The first gameplay footage for this new mode was revealed yesterday and it looks far from your standard online battle. God-gifted combatants enter an arena in a four-on-four fashion and begin hacking away at each other, but that's not all. Santa Monica has taken environmental hazards to a whole new level. Sure, there are the expected raising spikes, but that's not the main attraction. God of War's cinematic feel and the scale of its areas have only improved with each entry and that gargantuan cyclops in the background proves the that the team is always striving to do more. These touches of God of War personality are deeply ingrained into the mutliplayer from what I can tell and that is going to make it stand out from the rest. People will argue that it doesn't need multiplayer, and that's true to a certain extent. Grand Theft Auto IV didn't need multiplayer. In fact, it would have sold millions of units regardless of the inclusion of multiplayer. But take a look at what Rockstar accomplished. They turned the entire open-world setting for their single player game and made it a playground of destruction for players to cause mayhem. Who's to say God of War's multiplayer won't be the next big surprise? People will still state "if it's not broken, don't fix it", but I find "nothing ventured, nothing gained" to be more relevant here.
CON
We have all seen multiplayer slapped on strong single player series with less-than-favorable results. Let's take a look back at Dead Space 2, BioShock 2 and Ninja Gaiden 3 – although, let's be honest, it wasn't just the multiplayer that killed that last one. Those titles were follow-ups to great games, ones that had received many commendations. Dead Space 2 and BioShock 2 may have still boasted an entertaining single player aspect, but their multiplayer still felt forced, and that's the point. Anyone who played one of the three aforementioned franchises was in it for the single player experience. The rich environments, characters and stories were what it was all about. No one needed multiplayer to justify picking up the next entry. And therein lies the issue. We have entered a time where developers feel that they need to implement some form of multiplayer into their games to add longevity because, according to several reports, single player games are being killed off. Why is that? Because the used game market has supposedly dug their grave. Single player games are completed in a few days and then returned to one of several retail stores where they will be picked up again used by someone else with none of the secondhand sale money going back to the developer. This is when developers feel forced to tack-on some from of multiplayer in order to entice the player into holding on to their copy longer and try to convince them that there is more value there. However, BioShock 2's multiplayer brought the overall quality of the package down and I highly doubt it convinced countless players to hold on to it long after the single player was over.
It's a huge gamble, but it seems the logic behind it is "adding more couldn't hurt" when, in fact, it can and does. God of War has been a huge success and it was never due to multiplayer. Its bloody revenge-driven narrative and characters/creatures ripped from Greek mythology set up a compelling reason to check out the game on their own. Multiplayer is just one more task for the development team to work on which means focus is being taken away from the single player portion of God of War. That doesn't necessarily mean that Kratos' prequel journey will be terrible, but it's hard not to look at other games that have taken this step and made a grave mistake. Creating a competitive God of War multiplayer mode is ambitious. The team has said several times already that it is one of the biggest challenges they currently face. Weapons like Kratos' blades can't be used because the distance is too great and people would dice each other up from afar. This led them to change up the combat to closer quarters, much like what we've seen with the alternate weapons found along the demigod's blood-filled adventure. Whether or not this will lead to more issues remains to be seen at the moment. One thing is for sure, just like online-enabled fighting games, excessive lag could turn Santa Monica's power-infused fatal four way into an irritating button-mashing mess. To be fair though, we don't even know if the game will utilize a server or host system. However, if the latter is chosen, then avoiding lag would seem nearly impossible.
There is an issue that I have with the core concept as well. Players worldwide create and customize their avatar after choosing a god to work under. Suddenly, everyone and their moms is a champion of the gods and it really downplays the significance of who Kratos is. The God of War comics did state that the other Gods had chosen their champions, much like Ares chose Kratos, but they weren't bestowing powers on hundreds and hundreds of individuals at a time. It creates a scenario where everyone can be a god-empowered brute, which makes Kratos shine less as he is no longer that unique. A bunch of look-alikes have taken the stage and started doing exactly what he does in the same gorey fashion. I understand that the devs wanted to make each person put themselves behind their own cyclops-slaying powerhouse, but when the new fighters strike a chord too similar to that of our beloved Ghost of Sparta, something is lost.
Conclusion
Valid points were made on both sides, but we want to hear your take on God of War's newest mode. Tell us which side you agree with and why you think it'll sink or swim. You can leave your opinions in the comment section below!