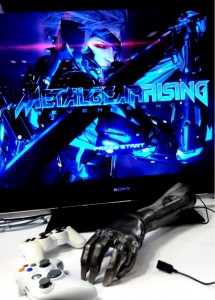 Hideo Kojima has posted some new pictures of what could be the title screen for the upcoming Metal Gear Rising: Revengeance.
He tweeted the following in regards to the images:
"Title screen similarly trial" and "Trial title screen "METAL GEAR RISING", of black lightning. Is one arm of white lightning".
The title screen looks cool even though they are only "trials". Hideo Kojima has yet to announce a release date for the game but it's expected to be released later this year for the Xbox 360 and PS3.
Check out the images below: