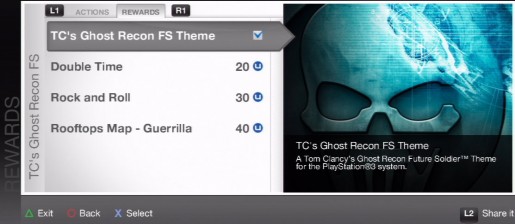 As with all Ubisoft games, UPlay rewards are among the things that players love checking out as it gives everyone a chance to get free content for the game they bought. With the upcoming Ghost Recon: Future Soldier, four UPlay rewards are unlockable and the content is something fans will enjoy.
Just like any other UPlay rewards, completing certain tasks will reward you with UPlay points that can be redeemed on Ubisoft's UPlay store. Up to 100 points can be earned in every Ubisoft game and yes, you can use the ones that you've earned from other games like the ones in Assassin's Creed Revelations.
Here is the list of UPlay Rewards:
UPlay Rewards
TC's Ghost Recon FS Theme – 10 UPlay Points
A Free PlayStation 3 GRFS inspired theme.
Double Time – 20 UPlay Points
Unlocks both weapons and decision points. Valid for one decision on one MP character.
Rock & Roll – 30 Uplay Points
Receive the M60 and RPK light machine guns in GRFS.
Rooftops Map – Guerrilla – 40 UPlay points.
Receive the "Rooftops" maps to play in Guerilla mode.