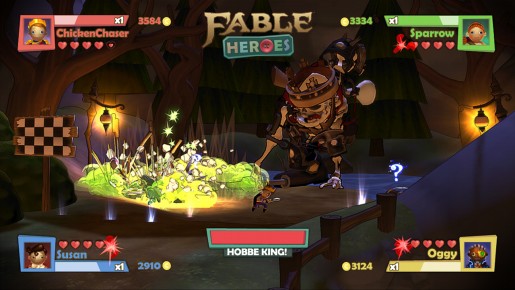 Transfer Gold in Fable: The Journey
In addition to Fable Heroes, there's one more Fable game that Lionhead Studio is releasing and it's not a follow up title but instead Fable: The Journey. Those who plan on picking up this game will have the opportunity to transfer the coins that they acquire to Fable: The Journey. Since we don't have much information on The Journey, it's unknown as to what purpose the coins will have in The Journey, aside from using them in shops.
NOT
Uninspired Gameplay With No Story At All
Fable games are renowned for their well thought out stories. In Fable Heroes, you will not experience this. The moment you start the game, you're brought immediately to a board game layout where you can choose a level. Once you pick a level, you then start your button mashing adventure which requires pressing X and Y non-stop. Those who are expecting a challenge will not find it here at all. Compared to Castle Crashers, the combat system in Fable Heroes doesn't offer any depth at all and it's shallow. Whenever any of the four playable characters die, they turn into a ghost and they lose the ability to get coins until they pick up a heart to bring themselves back into the game. Tt definitely gets frustrating since you can't respawn right away.
Bland Levels
It's true that the visuals and environments are nice to look at, but the game falls short in the variety of the levels it offers. Throughout the levels, you'll notice that there's nothing special. The flow of the game is very bland and it will turn a lot of people off. The routine goes like this: pick a level, get coins and roll dice. Before you even get to see all of the beautifully designed levels, you'll most likely forget about the game.
Not for Loners
When it comes to a game like this, playing by yourself is something I strongly advise against. The AI within the game is tedious and it will give you a headache. This is mainly due to the fact that they just run around doing all sorts of things and refuse to help you, especially in boss fights. The game shines when playing with a party of four made up of friends, but that's not exactly the case with the AI. You might as well skip this game if you're thinking of playing this game by yourself.
VERDICT
Fable Heroes succeeds in retaining everything that fans love about the Fable series, like its settings which Lionhead Studios gave a fresh look. As for the gameplay, it's somewhat disappointing due to its repetitive nature especially if you're playing by yourself. However, if you play the game online and team up with friends, you may begin to notice the shallow combat system less and less as you'll most likely be busy competing with the party. In the end, Fable Heroes isn't that bad, but this game is primarily aimed at hardcore fans who want a fresh take on the Fable franchise.
[Editor's Note: Fable Heroes was reviewed on the Xbox 360 hardware. The game was provided to us by the publisher for review purposes.]
Fable Heroes Review

,