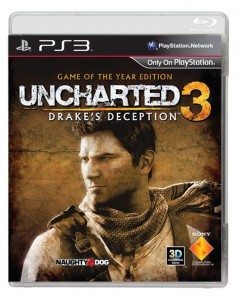 Today Sony has announced that the popular title Uncharted 3 will be receiving the game of the year edition treatment. This version of the game will include all of DLC that has been released for the game so far, which is 14 pieces of content total. All of the downloadable content that was previously included in the Fortune Hunter's Club will be included in this version of the game, aside from the FHC theme. The game's DLC includes:
Classic Skins Pack 1-3 – A plethora of skins from the previous games; mainly just alternate versions of the various main characters, but also some of the less known characters.
Multiplayer Accessory Pack – Killzone 3 related items.
Flashback Maps 1 and 2 – Remade maps from both Uncharted 1 & 2; 8 total.
Drake's Deception Map Pack – Four new maps made new for the game.
The Fort Co-Op – Co-op missions that allow you players to control the villains of Uncharted (Flynn, Lazervich, Eddy Raja).
Co-Op Shade Survival – New co-op mode where the player tries to survive for as long as possible against Djinn enemies.
Doughnut Skin Pack – Doughnut versions of some of the various characters; 5 total.
Rogues Skin Pack 1 and 2 – Various miscellaneous skins; 14 total.
Though no price or release date has been given for this new version of the game, though it seems that Gamestop and Amazon have dropped the price down to around $40. If you aren't particularly interested in any of the additional content, this may be a good time to get the regular version of the game. For those who are considering picking up the vanilla game, or the game of the year edition when it does release, but are unsure, check out our review of Uncharted 3 to see what's hot and not about it.