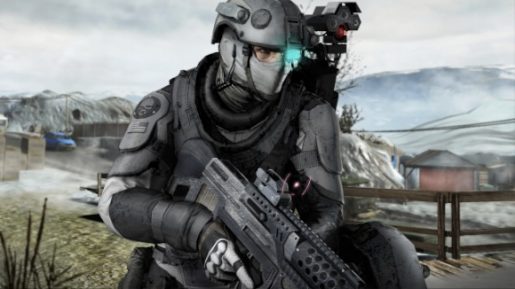 Ghost Recon: Future Soldier will be making its way to PC on June 15th, shortly after the consoles have received the tactical third-person shooter. After the initial startup, a one-time activation will be required. It won't require a constant internet connection after that activation though, so this minimal DRM should please everyone.
Here's some PC-exclusive features:
PC high standard visuals (DX11 renderer, new Hi-Quality Assets, new Post Process Effects, multi-monitor solutions support, TriDef stereoscopic support).
DirectX11 enhanced: Tessellation (for soft 3D models), Compute Shaders-based realistic lighting (for Global Illumination), Volumetric Fog.
Online Widget: Party, Friends and Ghost Feed functionality can be accessed at any moment from any screen.
Extended party functionality: simplified and more flexible invitation system.
Party text Chat.
Uplay Friends system
Fully customizable controls for the localized keyboards

I'm sure you'd like to check out the minimum and recommended configurations as well to see where your gaming rig stands. We've got you covered. Check them out below.
Minimum hardware requirements:
Supported Operating Systems: Windows® XP (with Service Pack 3)/Windows Vista® (with Service Pack 2)/ Windows 7® (with Service pack 1), both 32 bit & 64 bit versions
PROCESSOR: Intel Pentium D 3.0 Ghz or AMD Athlon64 X2 4400+ 2.2Ghz
RAM: 1GB Windows XP / 2GB Windows Vista or Windows 7
VIDEO CARD: 256 MB DirectX–compliant, Shader 4.0–enabled video card**
DIRECT X®: DirectX 9.0c
DVD-ROM DRIVE: DVD-ROM speed 4x, dual-layer drive
SOUND CARD: DirectX 9.0c – compliant sound card
HDD space : 25 GB

Recommended Configuration:
CPU: Intel Core2 Quad Q9450/ AMD Phenom II X4 940 or higher
RAM: 2 GB Windows® XP / 3 GB Windows Vista® & 7®
Graphics Card: 1024 MB DirectX–compliant, Shader 4.0–enabled video card based on nVidia GeForce GTX 460 or AMD/ATi HD 5850 or better