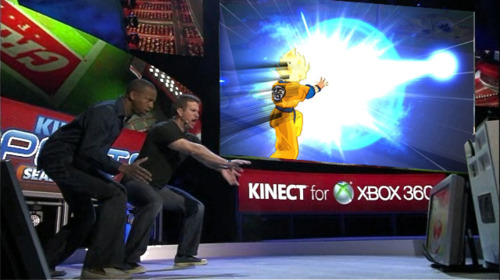 Earlier this year, rumors were flying about regarding the existence of a Dragon Ball Z game that was being developed for Xbox 360's Kinect. We can now confirm that one is indeed coming since Namco Bandai has officially announced Dragon Ball Z for Kinect.
Over 50 characters will join the fight and you will be able to harness the power of each one in this first-person brawler. Also, more than 100 moves from the popular show have been implemented for players to try out. These range from basic punches and kicks to the iconic Kamehameha. I wonder if players will be required to yell loudly for extended periods of time in order to obtain the Super Saiyan transformation. Better yet, will we receive digital readouts of our power levels based on our in-game performace? We shouldn't have to wait too long to find out these details.
Dragon Ball Z for Kinect will release this October.