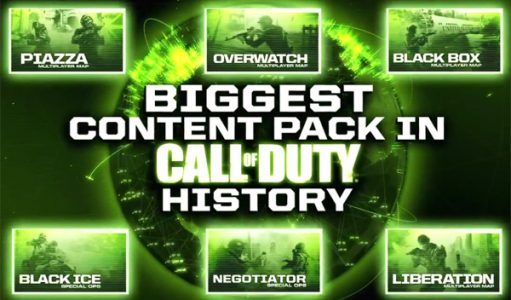 A few days ago, the first Modern Warfare 3 DLC pack was released for nonelite members. This pack includes 4 new maps to play on and two spec ops missions to enjoy. While this is a fair amount of content, some might find the 1,200 MSP price tag too high. Naturally we hear you and are proud to award five gamers this pack for free. Just do the tasks below, then keep watching your email to see if you won!
HOW TO ENTER
Like us on Facebook
Follow us on Twitter
Post here explaining what you would do with the DLC.
PRIZES
1 of 5 voucher codes for Call of Duty Modern Warfare 3 "Content Collection #1" DLC on the Xbox 360.
RULES
Winners must be 18 years or older.
DLC only compatible with US copies of the game.
Anyone found cheating will automatically be disqualified.
All previous followers and likes are entered by default.
This contest will last till 12:00 AM PST on March 26th.
Winners are only given one day to accept their prize. Failing to do so will cause you to automatically forfeit your prize and another user will be drawn.
All prizes will be awarded within 24 hours, unless stated otherwise.
Make sure to use a valid contact information, as where you win, will be where we contact us.
Best of luck to everyone and let's make this contest super!