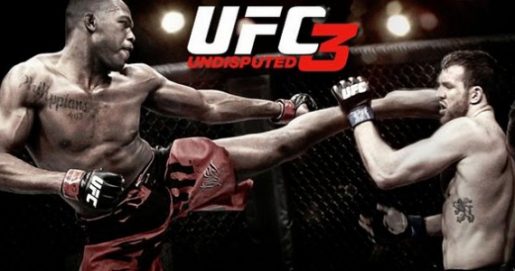 THQ has now released and outlined all the stat updates they have made to various fighters in UFC Undisputed 3.
THQ listened to player's feedback on the game and updated the stats of fighters according to their actual recent performances. The changes were made with approval from UFC itself.
More updates are expected to be made on the stats in the near future to keep the game as updated as possible.
Here are all the changes that have been made:
Quinton Jackson –Stregnth down 3 points to 83, Takedown Defense down 3 points to 82, Submission Defense down 2 points to 79
Brock Lesnar – Standing Kick Defense down 2 points to 68, Clinch Strike Defense down 3 points to 73
Frank Mir – Standing Strike Defense down 2 points to 70, Submission Offense up 2 points to 89
Cain Velasquez – Standing Strike Defense down 3 points to 79
Tito Ortiz – Strength down 2 points to 78, Clinch Strike Defense down 2 points to 70, Ground Strike Defense down 3 points to 70
Shogun Rua – Standing Strikes Offense up 3 points to 86
Lyoto Machida – Standing Strikes Offense up 2 points to 82, Submission Defense down 3 points to 82
Nate Diaz – Standing Strike Offense up 2 points to 86, Submission Offense up 2 points to 84
Anderson Silva – Clinch Grapple Defense up 2 points to 84
Michael Bisping – Strength up 2 points to 78, Takedown Defense up 2 points to 80
Jon Fitch – Standing Strike Defense down 3 points to 72
Rashad Evans – Strength up 2 points to 85, Takedown Defense up 2 points to 82
Ryan Bader – Strength up 2 points to 85, Takedown Offense up 2 points to 83
Chad Mendes – Speed up 1 points to 87, Takedown Offense down 2 points to 86
Cub Swanson – Footwork up 2 points to 78, Standing Strike Offense up 2 points to 82
Scott Jorgensen – Footwork down 1 point to 83, Standing Strike Defense down 2 points to 78, Ground Strike Offense up 1 point to 79
Renan Barao – Footwork up 2 points to 81, Standing Strike Offense up 2 points to 83, Standing Kick Defense up 1 point to 76, Submission Offense up 1 point to 83
Demetrious Johnson – Standing Strike Defense down 2 points to 85
Eddie Wineland – Standing Strike Defense down 2 points to 82, Takedown Defense down 2 points to 74
Takeya Mizugaki – Takedown Offense up 1 point to 79, Ground Grapple Top Offense up 2 points to 78
Melvin Guillard – Standing Strike Offense up 1 point to 85, Submission Defense down 3 points to 68
George Roop – Standing Strike Defense down 2 points to 80
Takanori Gomi – Standing Strike Defense down 1 point to 79, Submission Defense down 2 points to 71
Donald Cerrone – Standing Strike Defense down 2 points to 78, Standing Kick Offense down 1 point to 84
Jim Miller – Standing Strike Defense down 1 point to 76, Submission Offense up 1 point to 83
Kid Yamamoto – Submission Defense down 2 points to 78
Chris Cariaso – Ground Grapple Bottom Offense up 1 point to 75, Ground Grapple Bottom Defense down 2 points to 73
Diego Nunes – Standing Strike Offense up 1 point to 81
Jon Jones – Standing Strike Defense down 2 points to 86
Yoshihiro Akiyama – Clinch Grapple Offense up 2 points to 81, Takedown Defense down 1 point to 70, Ground Grapple Bottom down 2 points to 71
Chael Sonnen – Standing Strike Offense up 3 points to 76, Takedown Offense down 2 points to 85
Frankie Edgar – Standing Kick Defense up 2 pounts to 87, Clinch Strike Defense down 2 points to 78
Carlos Condit – Footwork up 3 points to 83
Junior Dos Santos – Standing Strike Offense up 2 points to 88
Vitor Belfort – Strength up 3 points to 77, Submission Offense up 3 points to 75
Roy Nelson – Clinch Strike Defense down 2 points to 68
Antonio Rodrigo Minotauro Nogeuira – Standing Strike Offense up 3 points to 79, Submission Defense down 2 points to 88
Kenny Florian – Standing Strike Defense down 2 points to 80, Clinch Grapple Offense down 2 points to 76
Cheick Kongo – Standing Strike Defense down 2 points to 79
Benson Henderson – Standing Strike Offense up 3 points to 78, Standing Strike Defense up 2 points to 78, Standing Kick Offense up 2 points to 77
Anthony Pettis – Takedown Offense up 3 points to 76
Jose Aldo – Speed down 2 points to 91
Source: UFC Undisputed