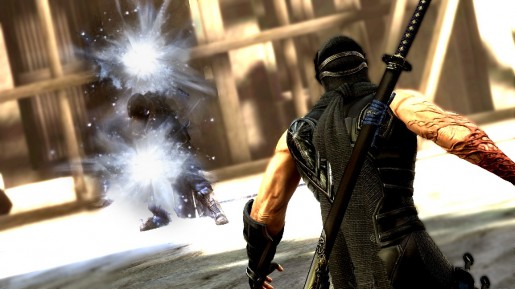 In Ninja Trials (both co-op and solo), you will not play as Ryu but, instead, a customized Ninja. By default, the customization options for your Ninja are limited. More of the accessories and outfits will be unlocked as you play through the Ninja Trials. Also, a leveling system has been implemented within the Ninja Trials. Your Ninja might start off with a weak arsenal, but, as you level up, you will be able to learn more techniques and make the ninpos more powerful. Playing the Ninja Trials are fun, but it's better if it's played with a friend.
Quick Time Events
To make the action more interactive, there will be quick time events pretty much every time you fight an enemy. From beginning to end, quick time events are a necessary part of survival. Boss fights are the one that usually require the use of this feature. While QTE's don't work in some games, the ones in Ninja Gaiden are just right, as it's always great to see how Ryu will perform his finishing move.
NOT
Not Challenging Enough
The Ninja Gaiden series has been infamous for its difficulty. With the new direction that Ninja Gaiden has taken, one of the things that is changed is the level of challenges presented in the campaign. Under normal difficulty, veteran players will find it too easy and that it feels like Ninja Dog mode from the previous games. Those who love the challenge found in the previous two game, starting on hard is recommended, although it's still not very challenging. Basically, the hardest known action game in the industry has now been dumbed down to a point where it is sure to disappoint a lot of fans of the series.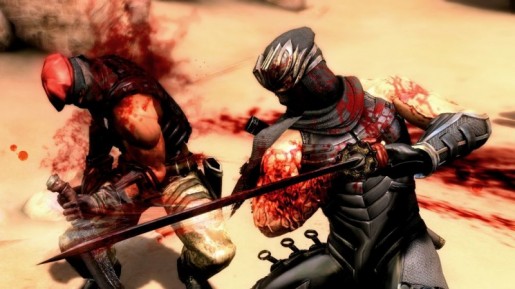 New Changes Might Not be for the Fans
Ninja Gaiden 3 has undergone so many changes that it's not quite the Ninja Gaiden game we remember. Since Itagaki left, the things we loved about Ninja Gaiden are gone; like the challenge it once had. Those who are fond of changing weapons and customizing Ryu's arsenal in the campaign will be disappointed, as this feature was removed. Throughout the nine stages, Ryu is limited to two weapons: his sword and a bow. There's now no way to equip Ryu with some armlet to increase his attack or even use beads to increase his life bar. The game has become very streamlined, where you simply jump in and get the objective (killing LOTS of enemies) done.
Another change that's in Ninja Gaiden 3 is the removal of Muramasa Shop, where you buy items to replenish the HP bar. One of the things that makes Ninja Gaiden 3 much easier is that HP is refilled after every wave of battle. There's also no need for fans to collect essence in order to restore your HP bar, gain currency to buy items or restore Ninpo slots. Speaking of Ninpo, there's now a bar below the HP bar which you have to fill up to use. Once full, you can then launch a fire dragon attack that can kills all the enemies on the field. The following changes were done to make the game somewhat more bearable and easy.
Bosses Aren't Memorable
Another disappointment I have with Ninja Gaiden 3, is that bosses are no longer memorable. While fighting bosses, you will notice that they no longer have life bars. Simply keep on attacking and, depending on what difficulty your playing, they will go down in no time. One of the better bosses is a giant witch, which somewhat resembles the Titan fight in God of War 3. As for the rest of the bosses, they are forgettable and easy.
Dull Online Clan Battle
In addition to co-op, there's also a competitive mode called Ninja Clan Battle within the game where you can compete with up to eight players online and perform kills. Divided into two groups, the main goal of the Clan Battle is eliminate the opposing side under a certain time limit. Think of this mode as a Team Deathmatch with swords. Between the Co-Op Ninja Trials and Clan Battle, I find co-oping with someone a lot enjoyable because Clan Battle is just simply a mindless hack and slash with no depth at all. As for the connection, it's smooth and noticed no lag on a full eight player match. While it's not necessary to play it in order to enjoy the game, it's there for anyone who wants to get more out of the game.
VERDICT
Veteran players of the Ninja Gaiden series, will be extremely disappointed with Ninja Gaiden 3, mainly due to the plethora of changes. The biggest change coming in the form of the dumbed down difficulty. While that may be a big change for fans, it's hard to deny that Ninja Gaiden 3 still succeeds in delivering the solid action gameplay that the series has been known for and finally delivers a story that fans will care about. When it comes to weighing the pros and cons of the new Ninja Gaiden game, it is still a solid title that long-time fans and newcomers to the franchise shouldn't miss.
[Editor's Note: Ninja Gaiden 3 was reviewed on the PlayStation 3 platform. The game was provided to us by the publisher for review purposes.]
Ninja Gaiden 3 Review

,