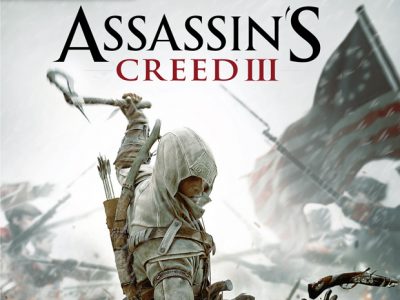 Ubisoft has sent us a huge Q&A session with Assassin's Creed III's Creative Director, Alexander Hutchinson.
If you want to know everything so far about Assassin's Creed III, you may want to read on. Bear in mind the whole Q&A is over 3000 words long! For all you Assassin's Creed III fans, there is a lot of vital information about the game here.
Check out the Q&A below:
• Assassin's Creed 3 is one of the biggest games attempted by Ubisoft. How do you organise such a massive undertaking?
With a development cycle of over three years and twice the production
capacity of any previous Ubisoft game, Assassin's Creed III is indeed a massive undertaking. We are lucky to have a veteran core team that came over directly from Assassin's Creed II and that has grown with members of AC Brotherhood and AC Revelations. This senior team is a great mix of very talented and extremely experienced people.
• Assassin's Creed is a project developed by world-wide studios. Who leads the development and how do you coordinate within all these studios?
Montreal is the lead studio with support from eight other Ubisoft studios.
• Assassin's Creed 3 marks a major milestone for the franchise; can you give us a glimpse at the scale of the game?
We started work on AC3 directly after AC2, so we've been working on it for over two years already… We're really excited to finally talk about it and show people our hard work. We want it to be a huge step forward for the franchise, and to be the biggest and best AC game yet.
• What is the story of Assassin's Creed 3? Where does it take place?
Assassin's Creed 3 takes place in the British Colonies during the American Revolution, mainly Boston, New York and what we're calling the Frontier.
Spanning the years 1753 to 1783, we trace the full life of Connor, a half Mohawk, half British boy born in the Mohawk Valley. As the Revolution heats up, Connor's community is threatened and so he sets out to protect it. To help fight for his people, Connor joins the Assassins, and begins a quest to protect the free will of people everywhere.
• What are the forces at play? What is the Templar's role in the story?
Our story explores the ongoing power struggle between Assassins and Templars. The Assassins have been in America for many years, watching over the Colonies unchallenged from the days of Columbus. But over time they grew complacent and by 1765 the Templars have all but wiped out the Assassins in the Colonies. While the Assassin's cling to existence, the Templars pursue their goals- and when the Revolution begins, the Assassins rise again to challenge the Templars as the Colonies struggle to free themselves from imperial oppression.
• The American Revolution is a key historical period, what makes this period pivotal in history?
The American Revolution is a key historical event for the world, not just for America: For Britain, the old joke was that the revolution was a civil war fought on foreign soil; for France, the debt incurred by helping the patriots leads directly to the French Revolution; for Americans obviously it's the founding of their nation; and for the rest of the world it is the beginning of events that lead to the American Century, and created the dominant super power of the last hundred years.
It's also worth mentioning that while the American Revolution is the backdrop to our story, but it is not the story itself: we're still telling another chapter in the ongoing war between Assassins and Templars, and our story begins before the revolution kicks off and ends after it is concluded. The core of our story is about how Connor leaves his village, why he joins the Assassins, how he becomes entangled in the revolution and how his quest to save his people concludes.
How is this period treated in the game? Why did you focus in on this particular time period and is this timeframe?

We're always looking for fresh places and periods to set the game. We don't want to go places that other games have explored, and even though America is a common videogame setting, America in this period is radically different. People will recognize some landmarks, but both Boston and New York in the 18th century are practically unexplored in games which made it an exciting setting.
Our story is an epic tale that crosses 30 years, from 1753 to 1783, beginning before the revolution kicks off, proceeding through its key events and finishing after the surrender of the British. We have an opportunity to include more historical events than ever before, with the player visiting Valley Forge, getting involved in key battles such as Bunker Hill and even becoming entangled in Paul Revere's midnight ride.
Can you introduce us to the new protagonist, Connor?
Our new protagonist is Ratohnhaké:ton, half Native American and half
British, who eventually adopts the name Connor when he joins the Assassins in order to move more easily in Colonial circles.
We wanted a new personality, someone who would be fresh for players. While Altair is driven by duty and Ezio by revenge, Connor is a man of the people: his goal is to resist injustice wherever he sees it. He begins by trying to fight for his people's place in America, but is eventually swept up into the revolution, and the struggle between Assassins and Templars.
His background also gives us the chance to introduce a bunch of new tools and weapons, from his dual handed fighting style starting with a tomahawk and knife, through to his use of a bow, and other period weapons such as muskets and one shot pistols.
What are his skills? How is this reflected in navigation, combat and stealth?
The goal with the new game was to take the core features of AC in terms of navigation, combat and stealth and to apply them to new environments. We didn't just want to add features, we wanted to take players to entirely new worlds and show them entirely new styles of gameplay. The goal with Connor was to create a character who is as comfortable climbing cliffs and moving through trees, fighting on uneven terrain and hiding in forests, as Altair and Ezio were comfortable in cities.
While many games have built forests, we want to show people that forests can be fully realized gameplay environments and not just obstacles to avoid.
What is Connor's back story?
With Connor we wanted to create a new and unique hero who was clearly different from previous Assassins and hopefully from most other videogame protagonists. While Altair was driven by duty, and Ezio by revenge, Connor is a man driven by a strong desire to do what's right. He fights injustice wherever he sees it, whether it's in the oppression of his people, or the British rule of the colonists, or the threat of the Templars. The story of how he moves from a child born in a Mohawk village to someone who is pushed to join the Assassins and eventually become involved in the revolution is the core of the game.
The period is full of rich historical characters, who will Connor meet and what are their role in the game?
We think we have the richest group of secondary characters yet for the franchise. Everyone loved meeting Leonardo in AC2 and ACB, but we will show players a new side to key historical players like George Washington, Ben Franklin, Lafayette, Charles Lee, and many more. Around 80% of the characters in this game are real people and if you have a working knowledge of American history, you'll see a lot of familiar faces. We encourage people to hit up Wikipedia throughout the game: we've done a mountain of research on this game and we want people to enjoy it.
• What is Desmond up to since he's woken up from his coma?
AC3 begins directly after ACR, with Desmond waking up and arriving at a brand new present day location. We're not talking about it in detail yet but we promise some serious resolutions in Desmond's storyline and some big events! You'll have more Desmond moments than ever before.
• America at that time was still vastly unexplored, will this immense land be explored in Assassin's Creed 3.
Our frontier map is a slightly shrunk version of the American North East, and as a map is about 1.5 X the size of Rome in Brotherhood. Within it we have historical locations like Valley Forge, small towns like Lexington and Concord, Connor's village and more: it's as dense a location as cities were in previous AC games, with many of our core story missions taking place in it.
• Assassin's Creed 3 is powered by the Ubisoft-AnvilNext engine, what is it and what does it enable your team to do?
Ubisoft-AnvilNext game engine is the stunning technology evolution that pushes boundaries on Assassin's Creed 3 with powerful graphics, lifelike animations and immersive combat. Developed specifically for AC3 here in Montreal, it dynamically manages multiple layers of content to bring a cohesive, believable world to life. The result is a breakthrough in the player experience with detailed models, atmospheric weather and vivid graphics. Also, AC3 will include worldwide cinematographic quality thanks to simultaneous motion capture and facial/voice performance.
Artificial intelligence has also been revamped which enables the team to produce a believable world. This comes off mainly through revamped NPC-Character interactions that bolster credibility of the Crowds but also and for the first time for AC, NPC to NPC dynamic reactions that will directly impact gameplay opportunities
Ubisoft-AnvilNext also manages the passage of seasons and the weather system builds more fidelity in the world simulation. It affects the crowd life; different activities and crowd compositions based on season. It also affects the AI and gameplay. It supports the managements of snow, ice, rain, wind, fog and more. Weather directly influences combat as it modifies multiple variables (visibility, surfaces impact navigation, etc) which require situation specific strategies.
• Since Connor is native to the Frontier but an outsider in the cities, how does this impact Navigation? What is this new climbing system?
As I said our goal was to create a character who is as capable in the wilderness as previous Assassins were in city environments. Our goal was to completely rebuild the climbing system from the ground up, not just with completely new animations, but also with brand new functionality. Connor can move through complex branch and tree formations easily, and can pause at any time to assassinate targets from above. He can climb cliffs and uneven stone surfaces using new moves we patterned on real world climbing techniques, allowing us to build natural landmarks to work alongside the city landmarks in the game.
He can also free run and climb on moving surfaces for the first time, so expect windmills, moving logs and more which allows us to create fresh puzzles and challenges for the player.
• Does Connor's Native American influence impact combat? Also, AC3 introduces two-handed combat, what does this entail?
We rebuilt the combat system from the ground up. Everything from the player strategy to enemy types to animations and camera implementation is new. Connor's combat system is based around a two handed fighting style, so he uses either tomahawk and knife, assassin's blade and knife, and many other combinations.
It also allowed us to bring in new weapons like the bow, and to give him a different flavour in terms of his animations and tried to make it more fluid than ever: Connor can perform what we call running assassinations, where he can assassinate people in full sprint without losing speed.
• How are you making combat a real challenge?
The core for us is a redesign of the health system, so that instead
of having health units and needing to heal after combat, you now have a regenerating health system which means you can't regain health during combat – you need to escape and rest.
We also built brand new archetypes and enemy behaviours, and redesigned the player strategy to push players to use all the different buttons on the controller and all of Connor's moves from counters, to offensive moves, to tools like pistols and throwing knives.
• Stealth is more important than ever, what are Connor's abilities that enable him to become the ultimate predator thanks to stealth?
We have a lot of new stealth features which are a lot of fun. You can now take cover against walls, and Connor will automatically adjust to hide when a guard approaches, which also leads into a new assassination move from cover. We also added the ability for Connor to hide in tall grass or bushes: if you walk through these areas he will automatically crouch allowing you to move undetected when approaching enemies. And if you're in a city and you see any group of people in the crowd performing an action like painting a house or cleaning, if you approach slowly Connor will begin mimicking their actions to hide amongst them.
• Assassin's Creed 3 marks a revolution in Crowd interactions and AI, what exactly pushes it to the next level?
We think a unique, interactive crowd is a challenge that Assassin's Creed tackles that no other game deals with in such detail so we're very keen to keep working on it. Our goal was to add new levels of awareness to these crowd characters, so they are all performing unique actions but also all aware of each other as they pass, and more importantly aware of Connor: so if the player walks near a salesman, that character will walk up him and follow him for a short distance, selling his wares.
We've also massively increased the number of NPCs onscreen, so now we can have a few thousand characters visible simultaneously. This is a huge boost when creating scenes such as the Battle of Bunker Hill, where we need large numbers of enemy troops onscreen, or when dealing with long, straight streets in American cities.
• One of the most visually striking additions is the changing weather and seasons, are the changes only cosmetic or they impact on gameplay?
Weather is more than art for us: preparing for winter was a challenge for people in the 18th century, and wasn't something we could ignore in this setting. Each of our maps have both winter and summer version which will push the player to change their strategy, climbing trees to avoid being slowed by snow on the ground, or hunting enemies who are struggling to navigate through the frozen forest.
As enemies also leave a trail, it's a new way to track people through the forest, helping make Connor a true predator in the frontier.
• The Frontier promises interaction with animals, are they included in the game? Will there be additional gameplay tied to this?
To us, animals are the 'crowd' of the wilderness. Players can obviously hunt the animals, but we really want people to immerse themselves in the tracking and trapping elements of interacting with animals. We want people to see some species just by navigating the world, but many others will require the player to use tactics and strategy to find and kill them. In a sense, we want players to assassinate animals more than just shoot them: this will result in different quality skins and other objects which can be sold but also used to satisfy side quests in the game.
We also wanted people to have opportunities outside of the main story path to interact with animals and other new gameplay, so we've built several alternate gameplay loops that encourage the player to explore and then rewards them with more gameplay. Clubs are a good example.
If the player hunts a lot, then the game will notice and send a character to meet them, who will basically say, 'You seem like a good shot with that bow, have you thought of joining the hunting club?' They will give the player an invitation which will allow them access to a previously inaccessible area of the map where they can join the club and gain a bunch of new side challenges and rewards,
• The American Revolution is famous for its large, epic battles. Will Connor participate in these confrontations?
Battles are one of the first things people ask about when we introduce them to the new setting, so we new we had to touch on them.
They're so iconic, and so new to the franchise, that we wanted people to feel what it was like to be present at some of these historical battles, but we wanted to make sure we did it in a fresh way. AC3 is not a shooter, and the player is not a member of either army: It's important that Connor remains an assassin. When he's there he has secondary goals to the resolution of the fight: while the forces clash his aim is to target a specific enemy, retrieve information, and continue his war against the Templars in other ways.
We also built new tech that allows us to have thousands of enemies onscreen, adding a level of realism to the battles and visual fidelity of the game.
• What are the different weapons Connor will be using on his missions?
Having a character with a Native American background who then joins the Assassins gives us access to not only all the usual Assassin tools, but a bunch of new equipment based on his heritage. His basic weapon is a tomahawk, which gave us a huge assortment of new attacks, especially when you remember that all of Connor's new fight is dual handed.
At first we thought we couldn't add a bow as a weapon, as most people had switched to rifles and pistols in this period, but with further research we found that many tribes were still using a bow and arrow to hunt from horseback as they were faster and more accurate on the move. So luckily we managed to justify it, and add a really iconic weapon for Connor.
However pistols and rifles are a feature of this period so Connor can use those, but luckily they're single shot weapons and for enemies they were also notoriously inaccurate so we remain a primarily close combat game.
Finally, of course the hidden blades are back and we've made some style changes so he can actually spin one of them in his hand and use it as a knife, but it's the key to silent kills.
• With a scope this huge and a world this big, how are you keeping things fresh throughout the experience?
This is by far the biggest Assassin's Creed game yet, and we have several full systems we haven't yet announced. Between the two new cities in Boston and New York, the Frontier as a map that's 1.5 times the size of Rome in Brotherhood, and the modifying effects of weather in all areas, the playable space is vast.
We've also added various new mission delivery systems like the Clubs, and allowed players to layer their experience: you can now have more than one active mission at a time, and more than one task on your plate, so people will be more in control of how they play their game.
Add to that the fact that we're investing more on mission variety and custom mission events than ever before in a story that takes place over 30 years, and you have a vast experience. We can't wait to get it into people's hands.