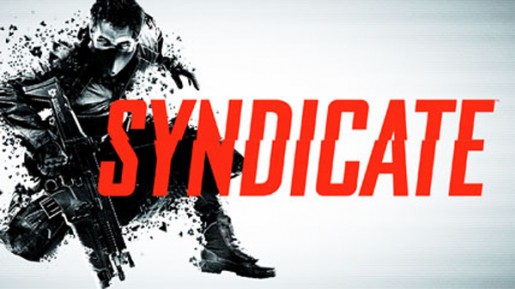 With its roots in isometric real-time tactics, Syndicate seems to have conformed to modern video game mechanics by being the first game in the franchise to be a first person shooter. Certainly a radical shift for a game that prides itself on tactical gameplay and strategy, but will the revamped gameplay and stylish sci-fi setting allow this classic to thrive in a new age of gaming? Or does this relic of a past age only look futuristic?
Let's check out what's the HOT and NOT in our Syndicate review.
HOT
Solid First Person Shooter Action
With so many first person shooter games out there like Modern Warfare 3, Battlefield 3 and Halo, it's possible that even fans of the genre will get tired of those types of games, as the majority of them offer the same style of gameplay. Now that Starbreeze's Syndicate is out, those who are curious enough about the game will be pleased to know that Syndicate offers something unique that makes it a refreshing experience for anyone who is tired of generic first person shooters.
The very moment I started playing Syndicate, one thing came to mind: the game gives a nostalgic feeling like I'm playing Deus Ex: Human Revolution. Since the setting of the game takes place in the future where technology is far more advanced, there are unique tools and abilities that Miles Kilo can use in Syndicate. Just like Adam Jensen in Human Revolution, Miles Kilo has some abilities that are implemented within his body through a chip. These abilities can be upgraded following the retrieval of several chips in the game. While the game is not really a hybrid RPG and first person shooter, Syndicate offers some ability to customize your character to gain the advantage in battle.
Through the many abilities that Kilo can use in the main campaign mode of Syndicate, it somehow eases up the repetitiveness of what we usually see in a first person shooter game where we simply just run, shoot and kill. Abilities like controlling the mind of your enemy and turning them against their own squad is one of the things that Syndicate offers that is rarely used in other FPS games. Every character in the game, including the NPCs, has a chip implanted in their brain that allows them to be controlled with the right program. This adds an element of strategy to shooting your way through enemies. With abilities such as making your enemy commit suicide, or activating an elevator or a platform by using Kilo's mind, it makes playing Syndicate refreshing and enjoyable.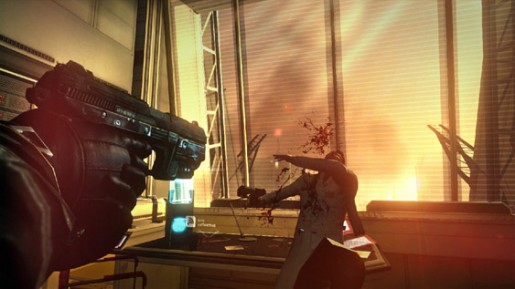 Syndicate isn't a completely unique game, as it borrows some features that are found in other shooter games, such as the ability to slow down time. Although Syndicate does not innovate in borrowing these features, it does enhance the shooter gameplay, and you might feel nostalgic for other games with similar features. With all of these features, Starbreeze Studios did a good job in crafting a solid first person shooter.
There are around ten chapters to the game, and you can expect to enjoy every one. While there are times that some of the chapters feel like you're doing the same thing over and over again, Kilo's abilities help to break up this monotony. It is fun implementing his abilities in a fire fight, and these techniques become essential in later levels.
Multiplayer Co-Op
When I first opened the game, I was surprised that I didn't see any online pass for the multiplayer portion of Syndicate, which is good as gamers who purchase a pre-owned copy won't have to fork out extra money to enjoy the multiplayer features of the game.
Following the completion of the 8-10 hour campaign of Syndicate, there's the multiplayer portion waiting for you. Instead of having competitive multiplayer modes, you'll be welcomed with missions where you can play with up to four people in the party. In each of the missions, your group will complete certain objectives that vary from elimination, picking up something or reaching the last area of the mission. It may sound easy, but actually it gets rather challenging. Every mission in the game has enemies with smart AI that will hunt your group down.
If you've played the single player and loved every moment of it, you can expect the same adrenaline-pumping action in the multiplayer co-op with nine fresh new missions for you to undertake. Some of the missions in the game share the locales from the single player, but it never feels repetitive because you're playing with other people and doing different objectives. Assuming that you've finished a level, you will get points that allow you to level up, unlock weapons and more. Also, if you wish to form a clan, also known as a Syndicate in the game, you are free to do so.
Presentation
When it comes to visuals, Syndicate won't win any awards. With today's high expectations, the visuals of the game are decent when it comes to character models. However, the environments of the game look astonishing. Expect to travel through a wide variety of locations. As for the voice-overs, I'm surprised that they're actually good and fit the characters that you'll meet in the game.
NOT
Story is Not Compelling
I have a mixed reaction when it comes to the story of Syndicate. At the beginning of the game, I found the story to be somewhat unique as it focuses on a big corporation trying to take down others with the help of their agents. You are Miles Kilo, an agent for EuroCorp and you've been assigned to go with your group to take down corporations (Syndicates) to help the company dominate others. On the first couple of missions, the story is at its peak but as you go through to the end, the story dies down and becomes abysmal and predictable. Thanks to the solid action the game has to offer, the story of Syndicate can easily be disregarded.
A Cover System that You Will Probably Never Use
Aside from the cool things that I've mentioned about the game, another one that you can expect is the use of the cover system. In almost every first person shooter game, cover systems are often useless and in Syndicate's case, it's the same thing. Through the several chapters and missions in both the single player and multiplayer portions of the game, you will find yourself not using the cover system at all. It's easier to go all out and perform Rambo style heroics instead.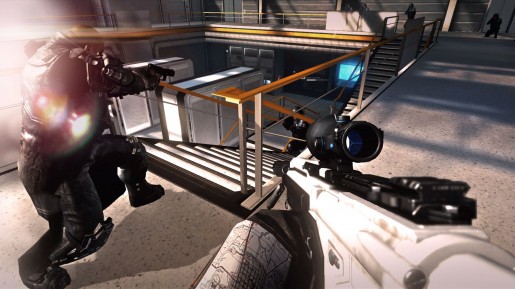 Too Much Hacking and Poor Paced Campaign
When it comes to action and gameplay, Syndicate succeeds. However, the game falls short on the poor pace it has of the campaign. With the tedious hacking and solving puzzles, it slows down the pace of the game. If this were Deus Ex: Human Revolution, that will be alright because the hacking is better implemented and the story more compelling. But with a game like Syndicate, where action is the main highlight, I wish the side stuff like hacking and solving puzzles would be lessened.
Lack of Competitive Multiplayer Modes
If you are coming from hardcore first person shooter games like Modern Warfare 3 and expecting to have multiplayer modes such as deathmatch, you will be disappointed. Syndicate's multiplayer portion only caters to gamers who love co-op gameplay modes. The modes that we've commonly seen in first person shooter games won't make any appearance here at all.
VERDICT
With so many first person shooter games flooding the videogame market, I must say that Syndicate can stand on its own as being somewhat unique from the plethora of other FPS games out there. While the game is far from perfect, Syndicate is a solid shooter that fans of the genre will love despite the not-so-compelling story and the poor pacing of the campaign mode. Also, not including the competitive modes in the online portion of the game is disappointing but the game makes it up for this lack with its fun co-op action that will have you coming back for more.
[Editor's Note: Syndicate was reviewed on the Xbox 360 hardware. The game was provided to us by the publisher for review purposes.]
Syndicate Review

,