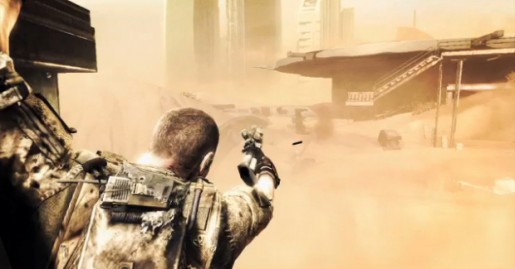 The ESRB has given an M rating to Spec Ops: The Line which doesn't come as a surprise seeing as the game is a military shooter. The developers also stated early on that it would be hard to capture the right tone for the game and show us the horrors of war with out taking the gore route and making the game visceral. You can read the ESRB rating description below.
"This is a third-person shooter in which players assume the role of a special operations soldier who battles enemies in a storm-ravaged Dubai.

"Players use machine guns, shotguns, rocket launchers, and grenades to kill enemy soldiers in frenetic combat. Battles are highlighted by realistic gunfire, screams of pain, slow-motion effects (during headshots); injured characters emit blood splashes when hit, and continue to incur damage when killed.

"Players can also "execute" or incapacitate enemies at close range (e.g., punching soldiers in the face or snapping their necks). Some weapons cause damage such as dismembered limbs or scattered body parts; a handful of sequences depict severely burned or mutilated corpses. During the course of the game, players have the ability to shoot unarmed civilians or open fire on angry mobs.

"Cutscenes also include intense instances of violence: bloodied characters getting interrogated and/or executed; soldiers getting shot in the head at point-blank range. The words "fuck," "shit," and "asshole" can be heard in the dialogue."
Spec Ops: The Line is looking at a release sometime in the first half of Take-Two's fiscal 2013 on PC, PS3, and Xbox 360.