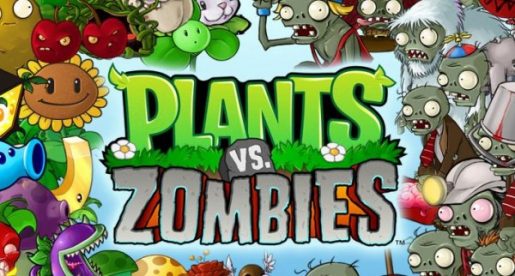 PopCap Games' extremely popular Plants vs. Zombies game has not only obtained critical acclaim, but it can be found on just about every multimedia device. Let's take a moment to see how many platforms this title has hit: PC, Mac, XBLA, SEN (also known as PSN), DS, Android phones/tablets and iPad/iPhone. Now, the Playstation Vita can be added to that already lengthy list of compatible devices. The great thing about the Vita is that it combines the physical controls of console controls as well as the touch screen capabilities of smartphones and tablets. So, this version of Plants vs. Zombies is a combination of the two current variations of the game. However, does that necessarily make it a must buy when a majority of us have played it before?
HOT
Addicting Gameplay
Countless entries later and Plants vs. Zombies still manages to hold players' attention for a while. As you may already know, the game starts and grows with Adventure Mode. This is where you'll be tasked with protecting your house from the varied zombie types with the helpful advice of the odd character Crazy Dave. Here players progress through levels of increasing difficulty. As levels go by, more plants become available to, well, plant. Each one plays a specific role, so it pays off to think strategically before each level. Sunflowers are used to produce sun, which are used to "purchase" more plants, but they deal no damage. Other plants, such as peashooters, attack and dispatch oncoming zombies. This is where the strategic nature of the game comes into play. Not too far into the game, the player will only be able to select six plants from those that have been unlocked. Filling those slots with the right combination of offensive and defensive selections is the key to success. This is even more the case when pools and nighttime levels present themselves, forcing you to choose the nocturnal and water-based plants to finish a level without letting the zombies reach the lawnmowers (the last defense between the undead and your house).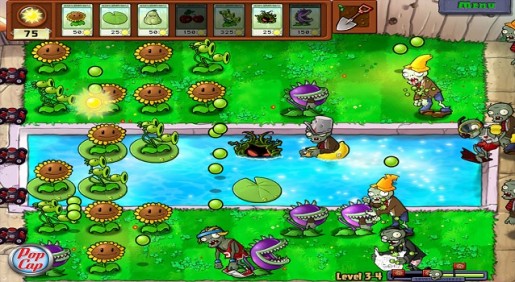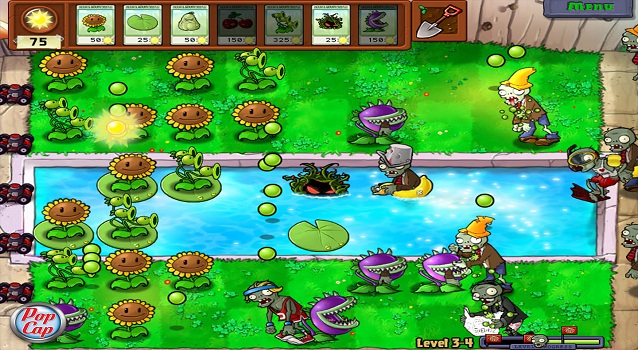 By playing through Adventure Mode, extras and mini-games are unlocked. These include a survival mode, a puzzle mode, mini-games, Zen Garden and Zombatar (although this one is unlocked from the beginning). There are bejeweled-esque activities and bowling zombies with Wall-Nuts, but these aren't Vita-exclusive. Actually, the only somewhat new feature is Zombatar. Although this create-a-zombie mode is available on PopCap Games' website, the Vita lets you customize one of the undead AND implement it into your game. So, when that wave finally comes led by the flag-bearing zombie, you'll see your little creation coming toward your line of defenses. Using peas and explosive cherries to stop zombies in their tracks is already fun, but it's even better when these deadly plants are used against something made by the player.
Graphics
Plants vs. Zombies hasn't failed to please visually on its various platforms and the Vita is no exception. The Vita's beautiful, large OLED screen provides a vibrant and sharp picture. The colorful plants stand out, the differently dressed creatures distinguish themselves and the pools shimmer. The artsy style furthers the light-hearted tone of the game. It's as much fun to watch as it is to play.
Play the Way You Want
Touch screen controls are the default setting for the game. You can tap individual sunlight to pick them up or tilt the handheld to grab them all up at once. Tapping seed packets and a plot will set that plant on the lawn or pool, assuming you have the necessary amount of sunlight. If tapping and tilting aren't your thing, then switch it back to the console-style analog stick and D-pad layout. The idea of implementing multiple control options isn't anything new, but it's still nice to be able to play the Vita version the way you like, whether that be closer to the iOS version or the one that's found on home consoles.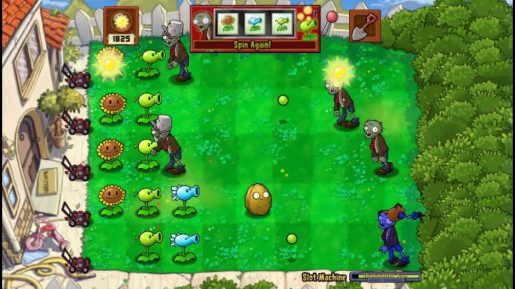 Platinum
PS3 downloadable titles usually get a handful of trophies with the gold being the highest possible achievement. Take a look at the PS3 version of Plants vs. Zombies. It included only 12 attainable trophies. The Vita increases that number significantly. PvZ Vita provides trophy hunters with a staggering 43 trophies. Not only that, but there is a Platinum awaiting dedicated players. I'm sure long-time fans will find the Platinum to be very alluring.
NOT
Same Ol' Stuff
The Vita doesn't expand on the Plants vs. Zombies formula or modes found on other systems. If you've played any other entry, then chances are you won't find a reason to revisit this game for the second, third or possibly fourth time. With the game reaching iOS and consoles, there aren't many Vita-specific control schemes. If anything, it just mashes those two versions together. First time players and those looking to increase their Platinum count by one are most likely the only two groups that will be interested.
Price
Plants vs. Zombies released three years ago. As I've mentioned before, it's available in physical and digital form on various devices. Obviously, as the years have gone by the price has dropped. The Vita version being considered "new" will cost players $14.99. That's pretty steep when an iPhone owner can purchase the game with almost every one of these features for $2.99. If you haven't played the game before and you're really itching for an addicting on-the-go game for your new Vita, then you might be able to justify the full price.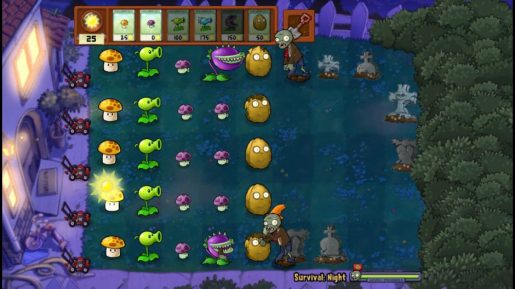 Verdict
After all of the years and entries, Plants vs. Zombies still manages to captivate the player and provide an extremely addictive experience. Adventure mode, the various mini-games and Zombatar will keep players busy as they go from one colorful level to the next. However, series' veterans won't find much here that's worth dishing at fifteen bucks for. Unless you're dying to prove your PvZ skill by getting the newly implemented Platinum, then chances are you'll do fine with your current version of the title, or at least one of the cheaper options.
[Editor's Note: Plants vs. Zombies was reviewed on the Playstation Vita platform. The game was provided to us by the publisher for review purposes.]
Plants Vs. Zombies (PS Vita) Review

,