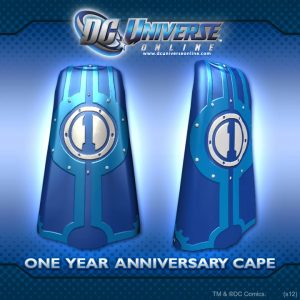 In celebration of DC Universe Online's first anniversary, Sony Online Entertainment is giving PC and PS3 players a free in-game item.
Every player will receive "a special one-of-a-kind One Year Anniversary Cape that features a number '1' on the back". However, with everyone receiving this item it really won't feel like "one-of-a-kind". I'm sure we can all appreciate the kind gesture though.
In order to claim the cape, this is what you will have to do: On January 11th (today), check your mission journal. Be sure that the character you are using was created before the aforementioned date (today).
Now go enjoy your free numbered cape.