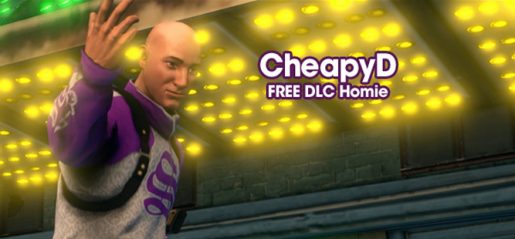 Starting January 17th, Saints Row: The Third players will be given a free piece of DLC. The complimentary content consists of one new follower. CheapyD, creator of Cheap Ass Gamer, will be able to tag along and help you create chaos in Steelport.
To grab this freebie, you'll need to follow certain steps, some of which differ between platforms. Here is how you'll claim your new Saint:
All Platforms: You must have Shaundi's Ex-Boyfriend's apartment as one of your cribs.
Playstation 3: Download the "CheapyD Pack" from the PS Store.
Xbox 360: Download the "Genkibowl VII Viewer Pack" for free or purchase the GenkiBowl VII DLC Pack (560 MSP).
Steam: Sit back and relax. The GenkiBowl VII DLC and CheapyD compatibility patch will be downloaded automatically.
Once the steps for your platform have been followed, all you need to do is call up CheapyD on your phone to start playing around with the new Saint. Check out this trailer of CheapyD in action.
CheapyD Joins the Third Street Saints Next Week

,