Click here for more Skyrim Guides
After speaking with Kodlak Whitemane, you are given an opportunity to join the Companions. Kodlak asks that you follow Vilkas outside to see how well you can handle yourself in battle. Follow Vilkas back upstairs and out the backdoor of Jorrvaskr and speak with him in the courtyard area. Speak with Vilkas and be prepared to fight him using ONLY MELEE attacks; using magic tends to glitch this quests and may result in the inability to continue this quest line.
After a brief but intense battle, Vilkas will deem you worthy of joining the Companions and commands you to take his sword up the Skyforge where Eorlund Gray-Mane is waiting for its delivery. Skyforge is just to the north of where you fought Vilkas; you can visibly see the giant bird statue above it if you look to the North from here. Walk around the Northern side of Jorrvaskr until you come across a stone stairway leading up and to the right ending at the Skyforge.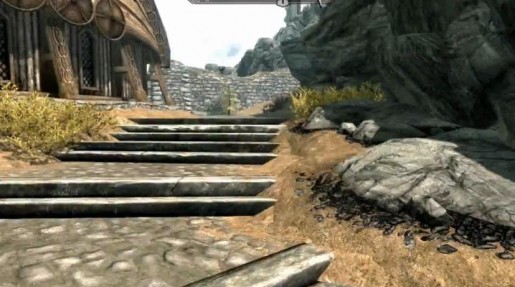 After speaking with Eorlund, he hands you a shield that needs to be delivered to Aela the Huntress. Take the shield and head back to the courtyard where you fought Vilkas. Aela has been known to be in one of three places, the courtyard, inside Jorrvaskr hall, or downstairs in the living quarters. Once you find her, give her the shield and engage in a light conversation where she will ask how you think you would do in a real fight against Vilkas. Your answers do not have any real affect on the game but she will not be pleased if you threaten harm against a fellow shield-brother.
At the end of this conversation Aela will advise you speak with Farkas who appears to conclude the exchange. Farkas then takes you on a small tour of Jorrvaskr showing you where you can sleep; simply pick any of the empty beds to claim it for your own to complete the Take Up Arms quest.
NOTE: Before the next quest in the Companions storyline (Proving Honor) is unlocked, you must perform at least one Companion Subquest.