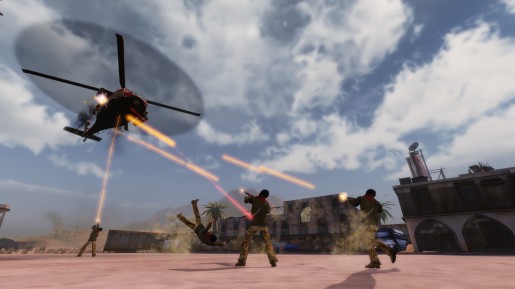 In case you weren't aware, game developers are not allowed to publish their own games on Xbox Live Arcade unless they are willing to let their games be categorized into the indie games section of XBLA. It is for this precise reason that InXile Entertainment has had to team up with Konami Digital Entertainment in order to publish Choplifter HD for Xbox Live Arcade.
Choplifter HD is the re-imagining of the origingal Choplifter that was popular on the Atari systems back in the early '80s. I remember playing this game as a kid and loving it but I could never get past the part of the game with the black stealth fighter planes. It wasn't until I was a few years older did I learn that the chopper was supposed to have ability to shoot and it seemed my copy of the game was just busted.
"The addition of Choplifter HD to KONAMI's diverse portfolio of games is a testament of our dedication to providing gamers with the best there is to offer in the downloadable space," said Vice President of Acquisitions and Franchise Development for Konami Digital Entertainment Careen Yapp. "Choplifter is a true classic, and we are looking forward to working with inXile Entertainment to bring this fun and creative re-imagining of the original title to gamers this Winter."
I do find it a bit disturbing that Choplifter HD is being released on both the PSN and PC via self-publishing but Microsoft continues to hold developers to this asinine regulation. If Microsoft were to simply open their doors a bit more to developers they will definitely see many more games coming to their console. Hopefully this will change when the "720" rolls around.