Bioshock Infinite was originally set for a Q1 2012 release date. More specifically, sites had posted that the game would be available February 1st. Obviously, this was a placeholder since that date falls on a Wednesday and a majority of games in North America release on a Tuesday.
Now, we have reason to believe that the game will be receiving an announcement soon stating that it will be delayed. Popular retailers such as Amazon and Best Buy have removed the 2/1 release date and replaced it with "Pre-Order". GameStop, however, has changed the date to 8/1.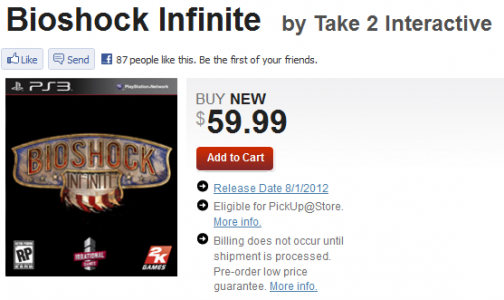 So, while this is purely speculation, it seems like retail stores got a heads up about a date change. I'm sure that, if this really is the case, we'll hear about it in the coming weeks from 2K themselves.
Bioshock Infinite Delayed?

,