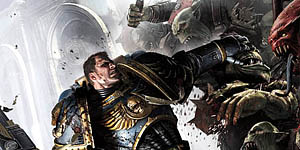 Warhammer 40K: Space Marine recently received the Exterminatus Pack, which added 4-player cooperative missions, absolutely free. Now, THQ is ready to release something that you'll have to actually pay for.
The Chaos Unleashed Pack expands the Exterminatus Pack by offering new areas and enemies for the cooperative mode. Also, the competitive multiplayer aspect will be given new maps. In addition to both of those, 10 new achievements/trophies will be up for grabs. This downloadable content will run you $9.99/800MSP.
For those who don't feel like spending any money, you won't be left out. A patch will be available the same day as The Chaos Unleashed Pack which will add Capture the Flag to everyone's competitive game mode options.