It was revealed earlier today that an upcoming Simpson's episode will parody Nintendo's console and E3 itself. The news was shared by Matt Selman, executive producer and writer of The Simpson's, to GTTV in a recent interview.
The episode will have Homer and the gang attending 'E4' where Homer will fight through the masses in order to let Bart and Lisa play the new 'Zii Zu' which is an upcoming console from 'Funtendo.' They didn't really go to any great lengths to hide the similarities and it doesn't take a rocket scientist to figure just what exactly they are poking fun at.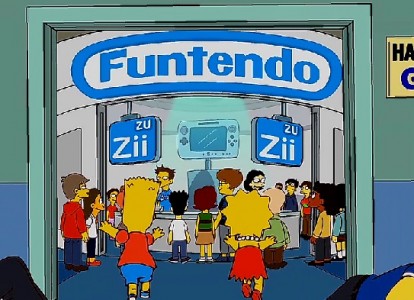 The episode is set to air November 13 and will parody other games as well along with Nintendo's new console. Some of the titles that the family will stumble upon are Medal of Duty, Guts of War II: Entrails of Intestinox, Grand Theft Scratchy: Itchy City Stories, Shaun White: Time Snowboarder, Dig Dug: Revelations, Assassin's Creed: Summer of Love and World of Krustcraft.