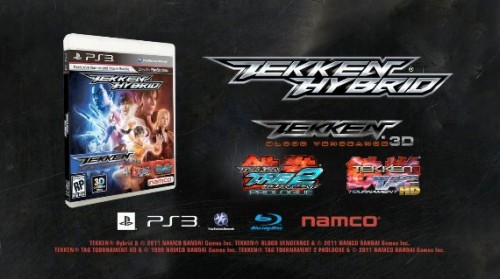 ESRB Ratings matter.
God would I like to deny this, but it's true. Often arbitrary, but true.
There are people turned off by games without an M rating and there are hardcore gamers who aren't quite old enough to buy said M rated titles by themselves. ESRB ratings are important, even to a game's image.
While the original game, Tekken Tag Tournament was originally rated T, it's what's inside the ESRB rating that counts, as it is with games, pies and arguably hot dogs.
Take a look for yourself on Tekken Hybrid's new-age ESRB rating.
This is a collection of two arcade-style fighting games in which players engage in hand-to-hand combat with a large cast of human, animal, and supernatural characters. Players use martial arts punches, kicks, and throws to drain opponents' health meters. Some characters supplement these traditional battle moves with weapons, while others can summon more fantastical assaults, including fireballs; lightning bolts; and a gaseous flatulence attack. A handful of female fighters are depicted in outfits that expose moderate amounts of cleavage; in one mini-game, characters' undergarments can be seen as they fly headfirst into bowling pins.
Make of this what you will. I am amused, personally.
Tekken Hybrid Receives ESRB Stamp

,