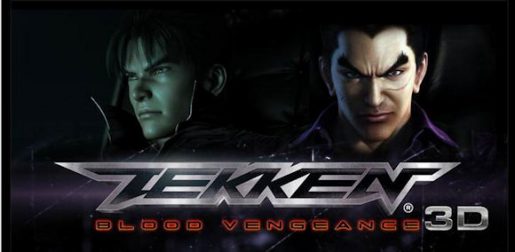 There are two types of video game movies out there. First, you have the live action versions that feature very bad acting and atrocious special effects (like Street Fighter), and then there's the more credible animated movies such as Final Fantasy VII: Advent Children. Tekken: Blood Vengeance thankfully falls into the latter category and is a movie fans have been wanting to see for many years.
Video games movies usually are bad, will Tekken: Blood Vengeance be more of the same lameness? Is the animation in this movie as impressive as seen in Pixar movies? Is the 3D any good? Find out as we take a look at the HOTs and NOTs of Tekken: Blood Vengeance.
HOT
3D
Even though 3DTVs only came out as recently as last year, 2011 has seen a small boom in the 3D Blu-ray market with a number of popular new films now available for the format. Not to mention the PS3 console itself is a 3D Blu-ray player so all you need to get to view 3D content is a pair of 3D glasses and a 3DTV.
Onto the actual picture itself and Tekken: Blood Vengeance looks like a gem. Many people criticize 3D as it usually dims the picture compared to when you view the picture in 2D. Tekken: Blood Vengeance still looks bright and luscious in 3D. Even when viewing scenes scenes at night time, the picture is still glorious to view.
Out of the 3D Blu-ray movies I have seen so far, Tekken: Blood Vengeance offers the best 3D picture. My previous favorite 3D Blu-rays to watch were Resident Evil: Afterlife and The Lion King. Thanks to the great animation seen in Tekken: Blood Vengeance, I now have a new favorite movie to watch in 3D. That is until James Cameron decides to release Avatar onto 3D Blu-ray for the public to buy (it's only available for some people who buy select Panasonic 3DTVs at some retailers to my understanding).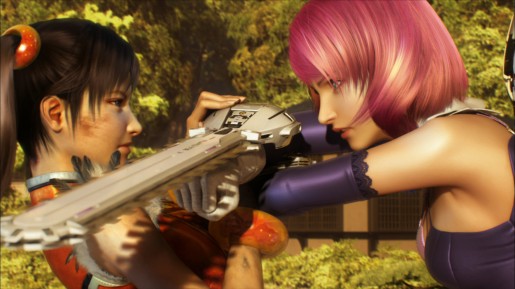 Story
Final Fantasy VII: Advent Children was one of the better video games movies that were made as it had a great mix of action and brilliant animation at the time of its release in 2006. The only downside to it was that the story was incoherent to many people who did not play Final Fantasy VII on the PSOne. If you did not have any prior knowledge to Final Fantasy VII when watching Advent Children, you would have not understood what most of the characters were talking about…
Thankfully, this is not the case with Tekken: Blood Vengeance as it offers an easy-to-follow storyline that even people who have never heard of the Tekken game series will understand what is going on.
Although I do not want to spoil the story, let's just say Tekken: Blood Vengeance is a more character focused story than in most other video game movies. Whereas in other movies they try and cram in as many characters into the movie as possible, this becomes a flaw as the there's not much screen time for the plot and characters to develop. Just watch any Transformer movie and you will know what I mean. Tekken: Blood Vengeance focuses on only a few Tekken characters which makes the film better in terms of story and character development.
Picture
Most films are shot in the widescreen format to fit the aspect ratio seen in cinema screens. This in turn means if you watch most films of DVD or Blu-ray on your TV, there's the black bars at the bottom and top of your screen. Since Tekken: Blood Vengeance was a straight to Blu-ray release (for most people), the screen thankfully fills up your entire TV screen. It makes the picture much more vibrant and better to view – especially for people with smaller TVs. Another great thing is that Tekken: Blood Vengeance can be viewed in both 2D and 3D using the same disc. Other 3D Blu-ray movies come on separate discs for the 2D and 3D feature that it becomes a nuisance changing the discs all the time of you only wanted to view a specific scene in 3D or vice versa.
Extras
Unlike on the Blu-ray and DVD release of Transformers: Dark of the Moon, Tekken: Blood Vengeance actually has some special features. Tekken: Blood Vengeance is packaged as Tekken Hybrid and includes Tekken Tag Tournament HD and Tekken Tag Tournament 2 Prologue. To read more about Tekken Hybrid, read our review here.
Not only does it include those games but trailers in both Japanese and English as well as two behind the scenes featurettes. These features talk to the director, script writer and many others involved in producing Tekken: Blood Vengeance. The film-makers admitted they tried their best to make Tekken Blood Vengeance a great movie and not a flop like most other video game movies.
NOT
Where are the other Tekken characters?
Although I admire films that don't feature too many characters, some Tekken fans might be disappointed to know that this film only focuses heavily on two characters only. Ling Xiaoyu and Alisa are the main characters in Tekken: Blood Vengeance and both characters take up more screen time than the likes of Jin, Kazuya and Nina. Other Tekken characters are sadly missing in action in this film such as Law, Paul and Asuka just to name a few. Lei Wulong is only featured when Ling Xiaoyu texted him. If you are not a fan of either Xiaoyu and/or Alisa, you may not find this film to be very interesting until the very end when the Mishima family starts fighting each other…
No DVD release
It's funny how Tekken: Blood Vengeance is only available to get via the release of Tekken Hybrid. This isn't a bad thing for PS3 owners but there may be people out there who want to watch the movie but do not own a Blu-ray player. It's still a movie and it would have been great to see Tekken: Blood Vengeance released on DVD.
*Note DVD release for Tekken Blood Vengeance isn't available in only some countries (such as New Zealand).
Verdict
Tekken: Blood Vengeance is an enjoyable film and breaks the curse of video game movies being absolutely atrocious. If you are a fan of other CG fims such as Final Fantasy VII: Advent Children and Resident Evil: Degeneration, this film is highly recommended. Some Tekken fans may dislike the lack of characters in the movie but it's much better than the live action Tekken movie released last year. Tekken: Blood Vengeance is how a video game movie should be made.
[Editor's Note: Tekken Blood Vengeance was reviewed on the PlayStation 3 hardware viewed in 2D and 3D on a 32 inch Sony 3DTV. The game was provided to us by the publisher for review purposes.]