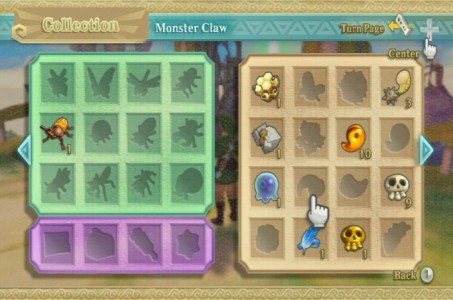 Throughout Skyloft and the Surface, expect to come across sixteen treasure items. These items are essential into crafting of new weapons and gears for Link.
If you're wondering on where to farm for Treasure Items, it's easy as most of them are dropped by monsters in the game. Some are just on the ground waiting for you to get picked up.
Want the complete list of the Treasure items? We got you covered! (Before attempting to hunt for these items, it's best if you have a Bug Net with you.)
TREASURE ITEMS
Hornet Larvae
Location: Outside of Skyview Temple. Shoot at the Deku Hornet Hive up in the tree. Make sure you drive away the Hornets first before attempting to get the Larvae. Keep on doing this by entering and exiting Skyview Temple.
Bird Feathers
Location: Using your Bug Net, catch small pink birds and yellow birds. These birds can be found in Faron Woods or at the very end of the game in the Sealed Grounds.
Tumble Weeds
Location: At the entrance of Lanaryu Desert, use the Bug Net to catch these Tumble Weeds.
Lizard Tails
Location: These are dropped by Lizalfos in the Earth Temple. Also, you can find them in the Shipyard at Lanaryu Sand Sea.
Eldin Ores
Location: Only appears at Eldin Volcano areas. Dig as much as you can and you'll find some Eldin Ores.
Amber Relics
Location: Found mostly in the Skyview Temple or Faron Woods.
Ancient Flowers
Location: In the time-shifted areas, these Ancient Flowers can be found in Lanaryu Desert.
Dusk Relics
Location: Rare, you can only find these at random treasure chest or in the Silent Realm.
Jelly Blobs
Location: Inside the Waterfall Cave in Skyloft.
Monster Claws
Location: Fight a lot of Keese and they will drop Monster Claws. They're mostly in Skyloft waterfall cave.
Monster Horns
Location: Bokoblin Leaders usually drops the Monster Horns. They're found in the entrance of Earth's Temple Entrance and in Eldin Volcano.
Evil Crystals
Locations: Monsters such as the Dark Lizalfos and the Cursed Bokoblins drops these crystals. They can be found in Ancient Cistern.
Ornament Skulls
Locations: Any kind of Bokoblins drops these items. Mostly, they're found in Eldin Volcano and Faron Woods.
Blue Bird Feather
Location: Catch a rare blue birds. The best place to hunt for these is in the Sealed Grounds or the Skyview Spring.
Golden Skulls
Location: You'll most likely get a lot of these skulls when you go through the Eldin Volcano and Earth Temple areas. They are usually dropped by Bokoblins.
Goddess Plumes
Location: Found in Silent Realm via the Thunder Dragon. Also, there are times that it will appear in Lanaryu Mining where you have to take down the Gust Bellows and they'll drop it.
Skyward Sword - Uncover the Hidden Treasure Items Guide

,