Favoring Saadia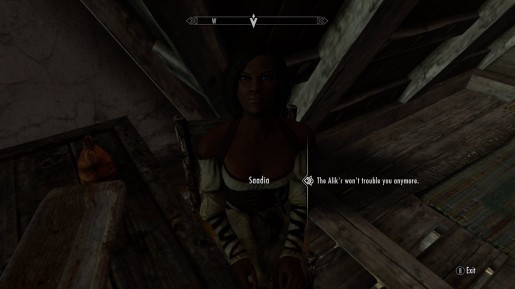 – If you favor Saadia, she'll tell you to speak to the Alik'r prisoner that's being held in the dungeon of Dragon's Reach.
– Speak to the Alik'r Prisoner and ask about Kematu.
– For the fine of the Alik'r Prisoner and let him get out in order to get Kematu's location.
– Now that you got Kematu's location, follow the marker on your world map.
– On the Swindler's Den, you'll face a lot of Kematu's men. Be careful.
– At the end, you will have an option to Kill Kematu or listen to his side of the story. (You will now have to decide again whether you'll believe Kematu or Saadia. Honestly, it doesn't really matter who you believe in as your decision will not effect the game's story.)
– Assuming you still sided with Saadia, kill Kematu and his men.
– Return to Saadia after clearing out the Swindler's Den. She'll thank you and reward you with 500 Gold.
Favoring Kematu and the Alik'r Warrior
– If you chose to turn in Saadia, talk to the Alik'r Warrior that's been looking for her in Whiterun.
– The Alik'r Warrior will ask you to lure Saadia in the Whiterun Stables for them to capture her.
– After the Alik'r Warrior captured Saadia, you'll be rewarded with 500 Gold.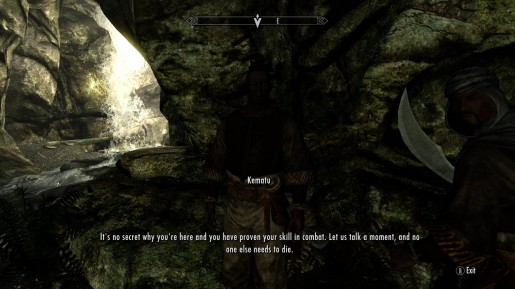 – When you meet Kematu in the Swindler's Den and you decide to side with him, he'll ask you to go back to Saadia and lie that he's been killed.
– Tell Saadia that she's safe and she needs to go to the Stables.
– Lure her and she'll be captured. You'll still get your 500 Gold
Skyrim Sidequest - In My Time of Need

,