Last year, Microsoft showed us all how to "be the controller" by introducing us to their newest peripheral: the Kinect. Among its launch titles was a little game called Kinect Adventures; a game in which we went white water rafting, popped soap bubbles in space, and even competed against each other in rousing games of handball. This year's Adventures game takes us all to a place that influenced many of our childhoods.
Does Disneyland Adventures recreate the theme park experience well enough to warrant dusting off our Kinect or does this crowded holiday season leave no room for Disney Magic? We find out when we look at what is HOT and what is NOT in Disneyland Adventures.
HOT
Extensive Content
When you go to Disneyland out in Anaheim, California, you expect to have a lot to do. Disneyland Adventures does a phenomenal job in capturing this aspect and transforming all that there is to offer in the actual theme park into a video game. Thirty-five different Disney characters spread throughout the park each provide gamers with a multitude of quests to perform. Granted most of these quests are fetch quests, the variation from character to character does well to mask the fact that you are doing the same things repeatedly. Gamers can also interact with each of these characters using simple hand gestures to hug, dance with, high five, take pictures with (unlockable after finding the corresponding picture album), and get autographs from each Disney icon. Trying to hug the Queen of Hearts is quite funny; she does not like to be touched.
Kinect Voice Commands
After seeing how well the voice commands work in Disneyland Adventures, it is a wonder why other developers cannot seem to utilize this functionality better. Every single aspect of the game has a minimum of three different commands; fast traveling to different areas of the theme park is a breeze thanks to the ability to bring up this menu, without interrupting gameplay mind you, and simply speak one of the many options that appear across the bottom of the screen. Voice commands even allow you to skip cut-scenes during any of the 18 attraction themed mini-games that embody the bulk of this game.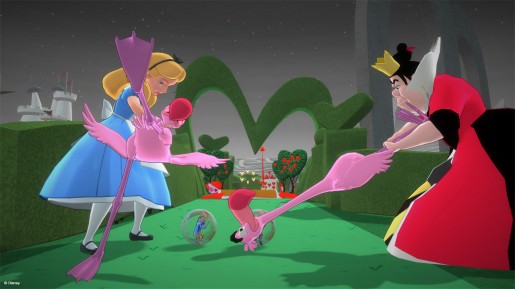 Mini-Games
A video game based on a theme park should have the rides that are in the park, and the consensus is to toss in some on rails rollercoaster simulation type deal. Instead of doing this, Disneyland Adventures decided to go a different route; instead, they chose to create amazingly fun mini-games themed around eight-teen of the actual theme park attraction in Disneyland. These mini-games are so well done; they feel completely new and refreshing. Each mini-game has several chapters and between each chapter is a superb cut-scene that keeps you engrossed in the adventure.
NOT
Graphical Glitches
While playing Disneyland Adventures, gamers will notice quite a number of problems with different graphical problems. Now keep in mind that this game was reviewed on a 4GB Xbox Slim, but honestly, there are many people who only own a Kinect because of this bundle. These glitches may not occur on an Xbox with a larger hard drive; but throughout my time with this game buildings frequently popped into view less than 20 feet from my character. At times, an entire family would suddenly appear right in front of me. None of these glitches actually had an adverse effect on how the game actually played but it did become somewhat unnerving at times.
Walking is Tiresome
In order for your character to walk in Disneyland Adventures, gamers must hold one hand forward as if holding up a marionette puppet. Upon getting new quest items, such as the ray gun from Buzz Lightyear, or the Magic Wand from Cinderella, walking is restricted to just the left hand as your character is holding the other object in his or her right hand. After about five minutes of walking back and forth completing quests, a person's arm will become quite sore. Extended time spent with this game will merely cause gamers to yearn for their controllers if not for anything but to be able to walk without getting sore.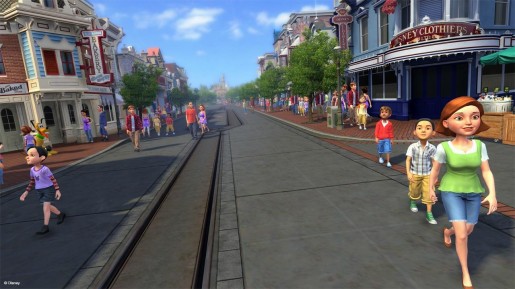 Too Restricting
Disneyland Adventures is the closest Kinect has ever gotten to an open world game and with all the open world games out there, gamers will have the cravings to do certain things that simply are not possible here. Getting a ray gun should mean that one can at least fire the gun at will, or getting a camera should grant the ability to take pictures at will. Sadly, this is not the case as all of the items earned work only during very specific times, on very specific targets, in very specific areas.
VERDICT
Disneyland Adventures has great potential to be one of the best games on the Kinect this holiday season. The voice command feature is used to an extent unlike that of any other game for the platform, the mini-games provide hours of fun for any Disney fanatic both young and old, and the amount of hidden secrets, quests, side quests, and items to unlock will have completionists coming back for more. The open world exploration aspect is executed very well but the restricting nature of the game, constant graphical glitches, and poor design decision of a key aspect in the game (walking), will turn away many gamers who would have loved to add this title to their Kinect Collection.
[Editor's Note: Disneyland Adventures was reviewed on the Xbox 360 platform. The game was provided to us by the publisher for review purposes.]