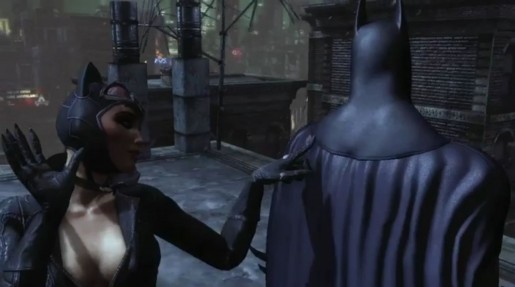 So Batman: Arkham City has been out for a short while now, and if any of you reading this are Gamefly customers, or rented the game from Blockbuster or Redbox, or got the game by any means other than purchasing a brand new copy, you may notice these Red Riddler trophies. You may also be wondering why, when you try to pick up these trophies, you get zapped.
Well, as it turns out, Rocksteady included these in the game in order to introduce a new element in Arkham City. These red riddler trophies can only be picked up while playing as Catwoman, and if you did not purchase a brand new copy of the game you are unable to play as Catwoman. Keep in mind that this is NOT additional content that can be downloaded to add to the game's already amazing content. No my fellow gamers, this content already exists on the disc, and the developers actually expect us to pay either 800 MS points or $10 for a "VIP Pass" in order to gain access to this pre-existing content.
Now I do understand the argument that this was a business decision to help combat the loss of revenue from used game sales. That makes sense because we should all be supporting the developers over the retailers, and not the other way around. When a retailer sells a used copy of a game, the developer sees no return from these sales. In an interview with DualShockers Dax Ginn, Marketing Game Manager at Rocksteady Studios, even stated that content such as the VIP Pass is "critical to the entire industry." The VIP Pass is mentioned at 2:42 of the following video interview, in case you don't want to listen to the entire interview.
Now, at the time I was in complete agreement with the fact that the used video game market is indeed hurting the industry. Developers should see a some sort of profit when these brick and mortar retail stores sell used games, especially when used copies of Batman: Arkham City are selling for $54.99 but if you trade in a copy of this game you only get $26 in-store credit. I was all for this VIP Pass, that is, until I saw this internal document that was supposedly distributed to Gamestop stores.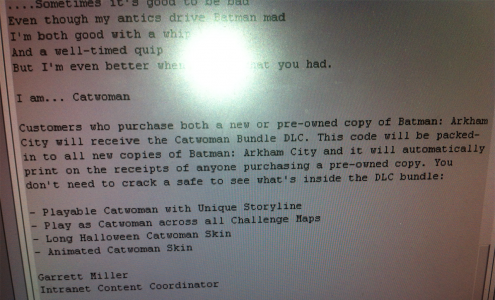 What the crap!?!? I mean, how hypocritical can you be? To announce a "VIP Pass" to help combat used game sales, only to turn around and allow Gamestop to provide Catwoman codes to anyone who buys a used copy simply adds insult to injury. This kind of consumer treatment is simply unacceptable. It's one thing to block lock away 10% of a video game's content to push an agenda that is "critical to the entire industry", but to turn around and encourage the exact behavior that this agenda is supposed to be fighting against is telling us that the industry can be bought provided the retailer can flash the right kind of dough.
On the other hand, perhaps GameStop took it upon themselves, bought a certain amount of codes, and gave them to specific stores to run this promotion for a limited time. When I reached out to all the local GameStops here in Central Florida, no one seemed to know anything about Catwoman codes being available for used copies. Unfortunately, until Rocksteady themselves respond to these outrageous reports, we will never know the truth behind why GameStop even had these Catwoman codes, if it was an agreement between Rocksteady and Gamestop, or if Gamestop acted on their own.