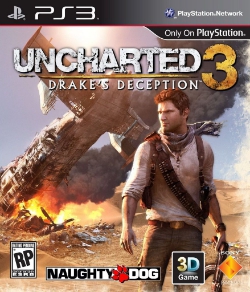 Well lookie here.
Uncharted, the first one, flew under the radar a bit, not that it wasn't noticed, it received special accolades from lots of gaming sites, but wasn't touted as an instant classic, beautiful water physics and well wrought dialog aside.
Then Uncharted 2 came out and blew everyone's pants off, and for those going pantsless, it just blew their socks off. The visuals were astounding and the entire game was lauded for a bunch of stuff every critic has already said about it anyway.
Well Uncharted 3 has made it to the top 3 most pre-ordered on Amazon.com. The series should be very proud of itself and those who are fans should give the first one a look to see where we've come.
Gameplay-wise, probably not far, but still, top 3 most pre-ordered. Congratulations for Naughty Dog!
Uncharted Breaks Into Amazon's Top 3 Pre-Orders

,