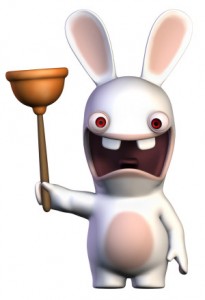 Ah Raving Rabbids, have far you have come. Starting off as a supporting cast of oddballs in Rayman Raving Rabbids and eventually getting your own game in 2006, you're certainly captured the hearts and minds of many gamers – enough so to get your own cartoon on Nickolodeon anyway. Those of you who enjoy the infectious insanity of these weirdo pseudo-bunnies can look forward to 2013 when the show will begin to air.
Ubisoft hailed the announcement, saying "Nickelodeon is one of the world's leading entertainment brands for children and families, and Ubisoft is thrilled to be partnering with Nickelodeon to deliver unique television programming to its viewers. As the world's most recognized entertainment brand for children and families, Nickelodeon is the perfect vehicle to share the zany Rabbids characters and their crazy adventures with television audiences around the globe. This partnership represents a major milestone in Ubisoft's strategy to expand its brands to new media, thereby attracting new audiences to its games."
Ubisoft has created 78 CGI 'episodes' of around 7-8 minutes which Nickolodeon will order together as dozens of 25-30 minute full broadcasts.
The next Rabbid game – Raving Rabbids Alive and Kicking – is a Kinect exclusive title set to launch this November.