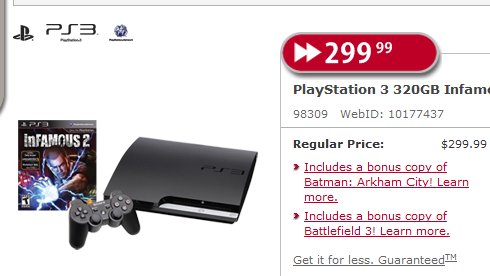 If you're in the market for a new Playstation 3 system, then you might want to check out Futureshop's latest deal.
We've all seen the 320GB PS3 system bundled with inFAMOUS 2, but Futureshop's website has added some extra goodies. Along with the console and copy of inFAMOUS 2, you'll also be treated to a copy of both Batman: Arkham City and Battlefield 3. So you'll receive two extra games while still only paying normal MSRP ($299) for the bundle.
At this time, it hasn't been confirmed if this deal is online-only. Still, you can't really beat this offer, especially if you're looking to buy a PS3 for the holidays.
[Update] It seems the retailer has decided to take away Battlefield 3 from the offer, leaving Arkham City as the only additional bonus now.