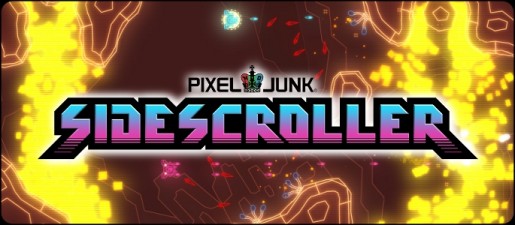 Pixel Junk: Sidescroller is a love letter to the old school scrolling bullet-hell shooter games; but to consider this game retro would be to do it a great disservice as this amazing downloadable title is anything but retro. Even though I am not a huge fan of the genre, this game not only grabbed my attention from the start, it held me in complete amazement as I traversed throughout the dozen or so stages found in the game; but is it worth the price of admission? Let us find out as we go over what's HOT and what's NOT in Pixel Junk: Sidescoller.
HOT
Length
Pixel Junk: Sidescroller is perfect if you want to sit down for a few minutes and play a few stages. Its also good if you want to melt away an entire afternoon, simply crank it up to hard (granted you've already unlocked it by beating the game on normal) and try to make a name for yourself through the leaderboards. Either way the game just feels right no matter how much, or how little time you have to play.
Visually Stunning
One thing that you can always bet on, is that if a game has the Pixel Junk name, it will be beautiful. The first thing that grabbed my attention is the title screen. Gamers will instantly notice the styling of an old school CRT monitor as early as the main menu. The futuristic color palette reminded me of being in a techno club with glow-sticks flying, black lights illuminating, and neon galore. Each sector has a specific color scheme that corresponds with the theme of the stage; blue stages feature ice that you must blast your way through, a red stage indicates that lava may be present, even green stages might yield acid traps. Not only are your eyes treated with glory, you really feel each of these levels as you switch to your lasers to burn through the ice, or skim through tiny corridors to avoid burning in lava.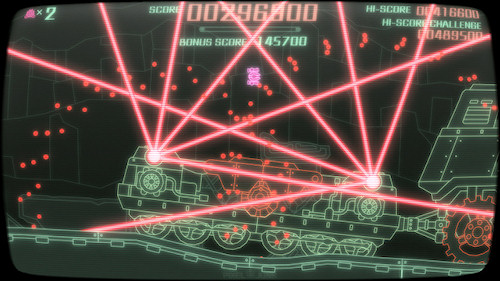 Music
The music in Pixel Junk: Sidescroller isn't groundbreaking by any means but it does an excellent job of engrossing the player into the futuristic arcade feeling that this game seems to be striving for. At times I honestly felt as if this game would fit in perfectly into a cyberpunk arcade out in Tokyo. If you were to slap on some headphones, the music and sounds in this game would easily drown out the world around you making the experience found in this game one you won't soon forget.
Co-Op
Even the Co-Op mode in Pixel Junk: Shooter feels like your back in an arcade with your best bud tearing through a month's allowance in quarters trying to get through a brutally punishing game. After one player dies, a countdown timer appears signaling how long the remaining player must survive before backup will return. I was slightly perturbed that we had to share lives at first, but eventually this led to comradery instead of dissension as we depended on each other to survive through the waves of bullets and baddies. Completing a stage in Co-Op mode leaves players with a sense of satisfaction that many games today simply fail to deliver.
NOT
Weapons Variation
One of the few disappointments I had with Pixel Junk: Sidescroller was the lack of weapon variation. I've played many bullet-hell games in my day; growing up it was one of the most prevalent genres on the market. Your ship is only equipped with three weapon types: Laser, Machine Gun, and some sort of Wall Ball weapon type (I forget what it's called); as you level up these weapon by collecting power ups, the weapon change just doesn't seem drastic enough and leaves you with a less than powerful feeling. For example, going from level 2 lasers to level 3 lasers seem to do nothing, each level of the wall ball just adds another set of balls that get shot out. The machine gun is the only weapon that seems to upgrade properly as each level you upgrade the machine gun to adds to the complete chaos that erupts onto the screen.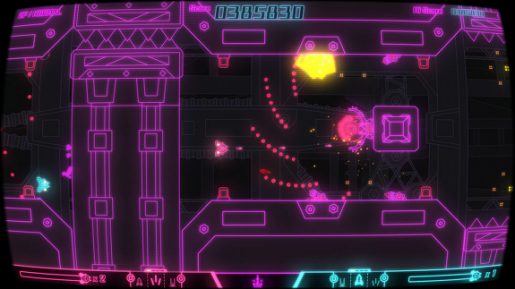 VERDICT
Pixel Junk has always created very unique and interesting games and Pixel Junk: Sidescroller pulls no punches as it takes on an age old genre in video gaming. At first glance this game is very bright and very colorful but consistently delivers eye candy stage after stage, boss after boss, no matter how long you play. The almost mesmerizing music and sound that is expertly used to create tension, ease, serenity, and even panic will take gamers on an edge of your seat thrill ride, while reflexes are pushed to their limits. For only $10, there is no excuse for Pixel Junk: Sidescroller to be missing from anyone's game collection.
[Editor's Note: PixelJunk Sidescroller was reviewed on the PS3 platform. The game was provided to us for review purposes by the publisher.]