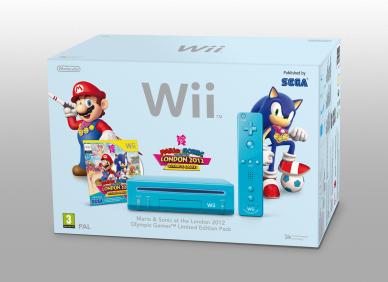 The universal question of 'who would win in a fight, Mario or Sonic?' was answered with the release of Super Smash Bros. Brawl but if you're wondering who would win in a round of show jumping then you're oddly specific tastes are about to be sated. Yes, Mario & Sonic at the London 2012 Olympic Games releases on November 18th and while this in itself isn't news the fact that it launches alongside a shiny new blue Wii console is.
The blue console is the redesigned kind, meaning a sleeker, more elegant machine meant to lie down on its side and which doesn't support Gamecube backwards compatibility. The bundle is thus far only announced for Europe so those in other countries will have to make due with inferior colours until Nintendo make any further announcements.
No word on price as of now.