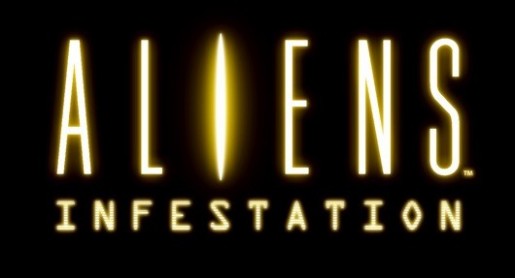 The Aliens series means different things for many people. With that in mind, developers Wayforward and Gearbox Software hope to bring the franchise back to its fans in the form of a retro Metroid-Vania style side-scroller.
Does Sega have what it takes or should this infestation be ignored? Let's take a look at what's HOT and what's NOT in our Aliens Infestation review.
HOT
Story lives up to the Aliens Franchise
The story in the Aliens franchise has always been good. Infestation takes place after the events of James Cameron's Aliens on the USS Sulaco. As a Colonial Marine, you are sent to investigate the ship and find out what really happened to its crew. During the course of your investigation, you'll learn that the Xenomorphs killed most of the ship's crew and it's your job, along with the other Colonial Marines, to find survivors and eliminate the threat.
Even for a DS game, Aliens Infestation offers something for real fans of the franchise. Infestation will have some of the movies' environments that will give a nostalgic feeling to die-hard fans. Expect to see familiar weapons, gear, and environments that you see in the game from the original Aliens film.
Metroidvania Style
If you love the classic 2D side-scrolling Metroid or Castlevania games, then expect to get hooked on Aliens Infestation. Inspired by these two classic games, the levels have been designed as various parts of the ship, and you can only get to a certain point unless you track down a particular item needed to proceed further through the Sulaco. The ship is big and there are a lot of hidden areas for you to explore. Always keep on the lookout for special items that can help you unlock hidden paths, as they will lead you to new weapons or let you find survivors.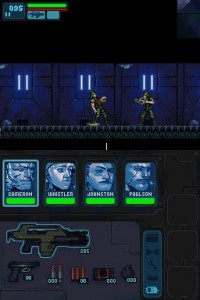 Graphically, Aliens Infestation doesn't have great visuals, as it uses the 2D pixilated sprites that were used in the early generation of video games. Even though it looks dated, the way the game plays and its mechanics work pretty well with Aliens Infestation. At first, it might look a bit awkward but as you get through the game, you'll get so used to it that you will stop thinking about it.
Once they die, they're dead
Up to four players can be used at a time in Aliens Infestation. Out of those four starting Colonial Marines, they will most likely die at some point. When the character you're using dies, they die completely and the only way to have other hidden characters in the game aid you is to find them inside the Sulaco. There are a decent amount of survivors in the ship that can join you whenever someone permanently dies in your party. Once they're in your party, it's best to pay attention to their health bar and the ammunition they have. Whenever you're low on health or don't have any ammunition, it's always best to go to the safe haven save point to replenish them all.
Each of the characters that you get to recruit, as well as the starting four characters, all have quirky conversation options that will give fans a quick laugh. Each of them has their own personality and takes on what your Commanding Officer will tell you. There are no voice-overs whatsoever in the game, so expect to read conversations instead of listening to them.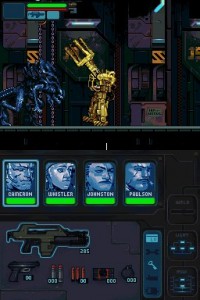 Great Variety of Weapons
Taking down the Xenomorphs will be hard especially without a weapon that is powerful enough. If you get tired of the preset weapons of your character, you can search through the Sulaco to find cool weapons that were used in the movies, like the flamethrower for example.
Some Intense Moments
Just like in the Aliens movies, there will be times when you'll get surprised due to the sudden appearance of the Xenomoprhs. Expect the Xenomorphs to randomly appear in the game, which is terrifying because it can instantly kill your character. The game is sure to give you a heart pounding experience!
NOT
Game Not So Easy
Before I played the game, I thought I was going to breeze through Aliens Infestation in one sitting to have our review on time. Boy, was I wrong! If you're sick and tired of the hard difficulty curve of Dark Souls or Demon's Souls, then you might not want to pick this game up just yet. Expect challenges awaiting you and Xenomoprhs simply popping out of nowhere and attacking your squad. Always try to keep a distance to your enemies; otherwise Xenomorphs and the other life forms in Sulaco will kill you.
Repetitive Level Design
In every area you go to in Sulaco, you'll always think that you're at the same spot as before because the level design is so monotonous. It would've been amazing if Wayforward and Gearbox Software added a little more detail to the levels to make it not as tiring for the eyes of the gamers.
Controls are just yucky!
The very first time you get to play the game, you'll have to get used to the controls because they're somewhat awkward. The way the buttons are configured is outright strange, so make sure you give yourself some time to learn them. However, once you're used to it, you will then enjoy the gameplay of Aliens Infestation.
VERDICT
Aliens Infestation is far from being a perfect game, but it's a title worth considering that lives up to the Aliens franchise. It has a few issues, like the clunky controls and repetitive level design. But for fans of Metroidvania games, getting Aliens Infestation is what you should be doing, as it will give you the nostalgic moments you love along with some intense new experiences. If the classic side-scrolling 2D Metroidvania games aren't your thing, you might as well look at another game as it will not be appealing to you.
[Editor's Note: Aliens Infestation was reviewed on the Nintendo DS hardware. The game was provided to us by the publisher for review purposes.]