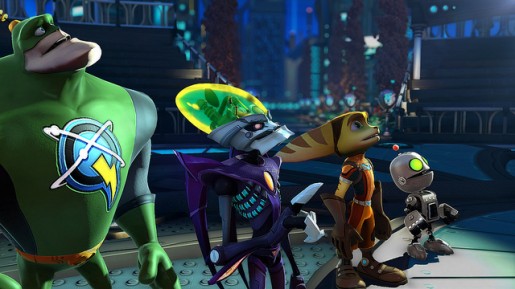 The Limited Beta for the highly anticipated Rachet & Clank: All 4 One beta has now launched and are available for players who have a code to redeem it on the PlayStation Store.
The closed beta will allow up to three players to join you in the game's first few levels. Here's an excerpt from Insomniac as to what the levels will be about:
"The first scenario is the opening level of Luminopolis where Ratchet, Clank, Captain Qwark and the evil Dr. Nefarious are forced to band together when Nefarious's light-eating Z'Grute is unleashed upon the city. The second area of the beta jumps you deeper into the action with The Vertigus Cliffs, set in the N.E.S.T. area of the treacherous Planet Magnus is a unique area full of vertical views that look stunning in 3D. The Vertigus Cliff level will also give you a chance to check out some mechanics from later in the game, including use of your weapon wheel and many of the crazy Ratchet & Clank weapons you've come to know and love. New weapons like the Frost Cannon, Plasma Bomb Launcher and Warmonger give you a great assortment of guns to play with, but old favorites like the Combuster are back as well. There are LOTS of weapons in the beta, as well as character's special ability."
If you're a fan and you want an access, here are the two codes that you can use! Sorry, first come first serve!
Ratchet & Clank: All 4 One Beta Codes
K54R-62NR-QMKL
39JL-7FN7-GDC9
Check back with us later this week for our impression of the Beta.
Ratchet & Clank: All 4 One Closed Beta Launched, Here Are Some Beta Codes!

,