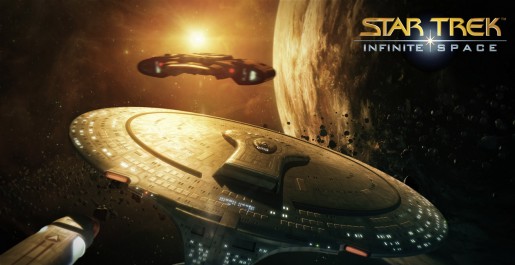 "So you're the commander of Deep Space 9. And the Emissary of the Prophets. Decorated combat officer, widower, father, mentor and… oh, yes, the man who started the war with the Dominion. Somehow I thought you'd be taller…"
Developer Gameforge is working on a new Star Trek title that may give players their greatest feeling of Trekkiness yet. The free to play game is set in the timeline of the third Trek series "Deep Space Nine", you'll get to defend the Alpha Quadrant from any and all who wish it harm.
Writing the game is someone who has some ties to the Star Trek universe: Lee Sheldon. Sheldon is known for writing numerous episodes of Star Trek: The Next Generation. Contributing to the game are Michael and Denise Okuda who are notable for writing the Star Trek Encyclopedia.
Since you can play the game anyway you want there are no set sides. For example, you can be an evil, merciless Federation officer. Both factions (Federation and Klingon) have unique missions that have multiple hours as well. Gameforge is promising more than 180 hours of unique gameplay which when you think about it, means this game will be everything a Trek fan could want.
ST: Infinite Space is scheduled for release later this year.