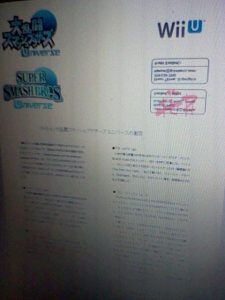 A new Super Smash Bros. game is inevitable and E3 confirmed its existence, but that was all the information we were given.
Now, a leaked document has not only reconfirmed the series' debut on the Wii U, but it has also given a few minor details.
The document shows both English and Japanese logo for the upcoming game as well as revealing that the "U" in "Universe" is the same as the "U" in "Wii U", thus pretty much confirming that it will be a Wii U title.
There are those who have claimed to have translated the mostly illegible document and apparently it tells us the following:
– There is even more third-part support in Universe, increasing the likelihood of a more diverse roster.
– "Tripping" will not be included in the new game.
– Due to Metroid: Other M, Samus will be receiving a speed boost.
That is all we know for now, that is, until Nintendo officially makes an announcement. However, it seems the wait for another Super Smash Bros. will be a long one.