Toy Soldiers: Cold War is a unique action/strategy game that sees you play as literally toy soldiers. The first game was released in early 2010 where it became one of the best sellers on XBLA for that year. Signal Studios wants to now repeat this success with the release of Toy Soldiers: Cold War.
Does Toy Soldiers: Cold War provide enough action and fire-power? Are the graphics even that good? Is it true that Rambo is in the game? Answers to these questions and more as we take a look at the HOTs and NOTs of Toy Soldiers: Cold War.
HOT
Action Gameplay
The best thing about Toy Soldiers: Cold War is the amount of high explosive action it provides the moment you start playing. Normally tutorial levels are scarce when it comes to thrills and excitement, but Toy Soldiers: Cold War might hold the title for the most exciting tutorial ever seen in a videogame.
The game blends both action and strategy that keeps the gameplay fresh and never feel very stale. As aforementioned, the action starts off immediately as you're forced to build a turret to protect your team's toy box.
The objective in the main game modes is to shoot and kill as many enemy soldiers and vehicles as possible before they invade your toy box. Other than the fact you're "The Americans" facing off against the "Soviet Union" during the Cold War, there's no story or cutscenes in the game. Not that this type of game needs it since the action is where all the fun is.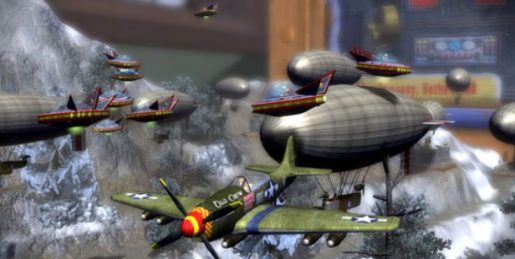 Number of Vehicles And Weaponry
There are a plethora of vehicles and weaponry at your disposal in Toy Soldiers: Cold War. The main weapon of choice are your machine-gun turrets. It pays to place them strategically in each map to stop the enemy from invading your territory. The amount of money you can spend is quite low at the start, so it pays that you kill as many people as possible so you can start spending money on the big boy weapons.
From then on, you will be able to spend money on anti-tank missile turrets, anti-air turrets, mortars, tanks and even an Apache helicopter! Each type of turret and vehicle in the game have their own strengths and weaknesses. It's best to think before you use them. From my experience, it was helpful using the Apache helicopter near the end of a level to help combat the many large bosses that will be heading your way…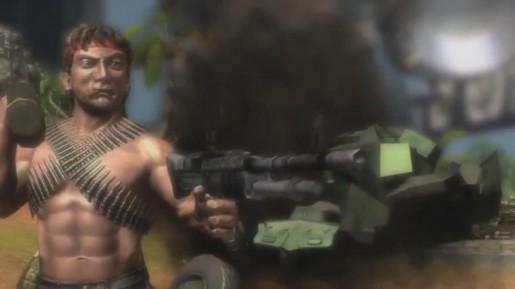 Rambo and Ivan Drago Are In This Game?
One of the best additions of the entire game is its obvious references to popular culture. The "Commandos" you will play as are inside G.I. Joe style packaging. Not only this, but the US Forces' Commando is a reference to Sylvester Stallone's Rambo character. The voice actor tries his best to mimic Sly's iconic voice with lines like "This one's for Jimmy!" and more. He even shoots enemies with a machine gun in one hand, and blast missiles with a bazooka on the other hand. Now that's what you call a tough guy.
The Soviet Union's Commando is a reference to Dolph Lundgren's character, Ivan Drago in Rocky IV. Much like Rambo, the voice actor tries to emulate Lundgren's voice with classic lines like "I will break you".
Personally, I bursted out laughing the first time I saw them as I'm a huge fan of both characters. I can imagine gamers who are old enough to remember them will feel the same way too.
Multiplayer Modes
As much fun I had during the single player mode, the multiplayer modes are even better. This is because you can use the "Commandos" and vehicles as many times as you want. In single player, you have to earn them, but multiplayer allows you to use them as many times as you want. You don't want to know how many times my brother and I chose Rambo and Drago to duke it out on the battlefield one-on-one. It was much like the finale of Rocky IV only with guns and bazookas in lieu of boxing gloves.
There are also mini-games included in Toy Soldiers: Cold War too. Most of them require you to kill as many soldiers as possible in a one minute time-frame to see who can score the highest. Although one of them you will be shooting at a swarm of household flies instead of toy soldiers! It's disgusting to look at as you will see their guts burst and their heads come off too!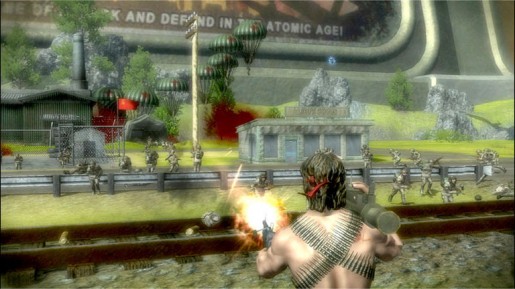 NOT
Graphics
The only thing I found lacking in this game, is the graphics. Although the character models are well designed, the wash out color palettes and bland environments are ugly to look at. Quite frankly, this game looks more like a low-grade PS2 game more than a 2011 Xbox 360 video game.
Lag
The frame rate can struggle to keep up with the action when there are too many soldiers and vehicles shooting at each other simultaneously. It doesn't happen frequently, but it can be annoying when it happens. The game slows down heavily and there's nothing you can do about it unless you wait for the action to die down.
Verdict
Toy Soldiers: Cold War is one game that doesn't take itself too seriously. No matter how unrealistic it may be, this game is all about action and explosions. The throwback to popular '80s action films is also something to be admired as is the very fun multiplayer modes. Despite the poor graphics, the amount of fun I had playing the actual game made me forget how ugly the visuals are. A must have title for any gamer wanting to have fun!
[Editor's Note:Toy Soldiers: Cold War was reviewed on the Xbox 360. The game was provided to us by the publisher for review purposes.]
Toy Soldiers: Cold War Review

,