Recent rumors have blown up around the internet regarding a possible new mode in the upcoming FPS, Battlefield 3.
What could it possibly be you ask? Well, if the title of this article is any indication, it has to do with dinosaurs. It is rumored that we may very well see Dinosaur Mode in Battlefield 3. Then again, this could be someone having fun with all of us hyped gamers by toying with our minds. Before I let you draw your own conclusion, let's take a look at some evidence.
Earlier this year, a person claiming (as they all do) to be employed with Activision started a thread on 4chan. His goal was to get everyone's feedback on Modern Warfare 3. In typical 4chan fashion, everyone started going off on the lack of dinosaurs within the game. How is this at all related? Later down the road, DICE showed off a trailer for Battlefield 3 and this image (look down) was present.
That part of the trailer was directly referenced on Gustav Halling's Twitter. From the sounds of it, he was referencing the MW3 dinosaur thread.
Now, this picture has hit the internet and while it doesn't have any official announcements (or Tweets) backing it that hasn't stopped gamers from running wild with ideas if it turns out to be legitimate. Take a look.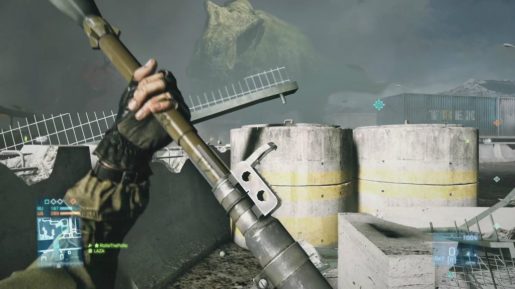 The picture is far from real proof since someone could have had fun editing an existing image, but, for one second, let's believe it's real. If so, this could crush Call of Duty's zombie and upcoming survival modes. Who doesn't want to call an airstrike on a massive T-Rex? Or knife a sprinting velociraptor? Or possibly strap C4 to a charging triceratops? I may be getting a little carried away.
This all seems very hard to believe mainly due to the lack of credibility behind the photo and the fact that the game has been going for extreme realism. However, Dinosaur Mode would be a great change of pace for the game and would definitely keep everyone (or at least myself) coming back time and time again to battle these long-extinct creatures with modern day weaponry.
Do you want this mode to become a reality? Let us know your thoughts on this absurd rumor in the comment section below.
Battlefield 3 Includes Death, Destruction... and Dinosaurs?

,