The Transformers brand is one of the most iconic icons in pop culture. What started out in 1984 as a small toy line quickly spread into a pop culture icon covering television, comic books, Hollywood, and video games. But with the addition of the live action films came the inclusion of crappy titles based off of those movies. Once High Moon Studios got their hands on the franchise and created War For Cybertron, a decent game in a line of not so decent games, there was a glimmer of hope that fans could finally receive the Transformers game that they always wanted.
So here we are in July and the third movie has been released on the silver screen. You all know what that means right? Another movie based title to go along with it! With High Moon Studios back behind the reigns of this popular franchise after their last game, what could go wrong? Well as you will soon find out in this review for Transformers: Dark of the Moon, a whole lot can go wrong. Here are the Hots and Nots for this newest adventure in the series.
Hots
War For Cybertron-Esq
The one good thing this game had going for it is that it uses some of the basic mechanics from War for Cybertron. Your vehicle can enter stealth-force mode and you gain unlimited ammo and can take more damage than in your robot form. While this is pretty cool and all, it really doesn't give you any reason to leave your vehicle form other than to open a door or when you are required to stay in robot form. I found myself using the stealth-force mode more often just so I could prolong my life that much more. This game has the potential to be extremely difficult even on normal.
Gameplay
The overall mechanics for the game run smoothly enough to work well. The controls are easy to pick up and the gunplay is solid. But after awhile it does start to feel like you are playing the same thing over and over again just with different skins. The boss battles help break up the pacing and give you something different to do within the game as well.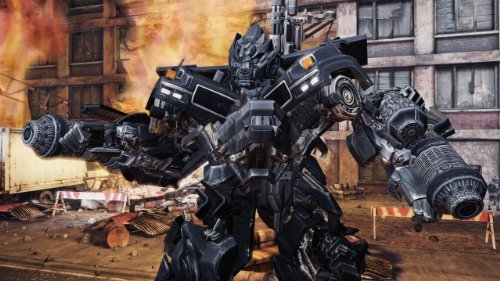 Nots
Story
The basic premise of the story has the Autobots once again trying to stop the Decepticons from attempting to take over the Earth. This time around though, the plot is a tad more scattered. What first begins as random missions on the Autobots side trying to monitor for any Decepticon action quickly scatters into a desperate attempt to tie it into the movie in the final few levels. The game box even mentions Shockwave like he is going to be a huge part of the story yet he barely has any facetime whatsoever in it. The story itself will take you approximately 5 hours to beat on the normal difficulty setting.
Repetitive
After the first two levels (out of seven), the game begins to get extremely repetitive and painful to play. You can only shoot at the same colored robots over and over again before your brain tells you that it has had enough and becomes bored. Even with the boss battles and different characters over the seven levels, it all just boils down to mashing the fire button with your most powerful weapon in stealth-force mode just so you can stay alive a little longer.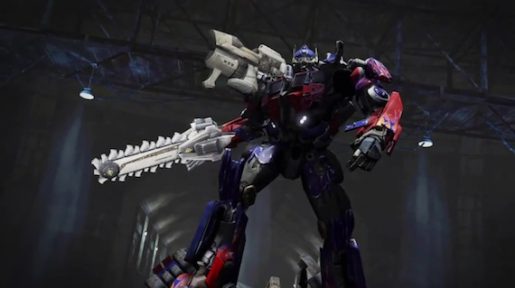 Graphics
This game is definitely not the best looking one out there. The character models and environments look muggy and dull colored and the game itself is prone to constant mid-level loading. And that is even after your install the 4 gigs onto your hard drive. What was the point in installing the game if you were still going to make me wait through a loading screen for a level that takes me all of 30 minutes to complete?
Multiplayer
I had high hopes for the multiplayer hoping that it would be the games saving grace. I was sorely mistaken. Once you get online you have the option to set up the four available classes to your liking. You can choose from the hunter, warrior, scout and commander. You can go into each one and select from different Autobots and Decepticons to use as a skin for your match such as Bumblebee, Optimus Prime, Megatron and Shockwave. You then have three different options for what time of game you would like to play. The selection consists of Team Deathmatch, Deathmatch and Conquest. All of them are exactly as they sound and are completely unoriginal.
Once I got into my first match I noticed it was plagued with issues. The first big issue was the massive amount of lag I encountered that followed me though the five matches I attempted to enter. When I finally got into a decent working room, I found it impossible to kill a single person. Using a combination of all the rounds in my gun and multiple melee strikes, I was still taken down by a scout class vehicle while playing as a warrior. So much for that idea.
Verdict
After War for Cybertron and its decent input towards the Transformers universe, I had high hopes that they could rework their magic on this title and keep it from falling into the typical movie game tie-in rut that these things tend to fall in. But as that is not the case, this game is one that should be reserved for renting if you are a die-hard Transformers fan who must play this game. With little going for it and a heap of flaws behind it, not even casual fans will want to take a look in its general direction.
Transformers: Dark of the Moon Review

,