The Killzone 3 Helghast Edition was marveled at by many, but the price point of $129.99 was too steep for some. Fortunately for those who held out, Best Buy is selling the game at an extremely discounted price.
Right now, you can grab the Helghast Edition from Best Buy for the very affordable price of $49.99. Fifty bucks will get you Killzone 3 (of course), a Helghast helmet replica, 6.5″ cloaking marksman action figure, art book and Super Voucher. The voucher includes access to the game soundtrack, double XP and access to every weapon and ability for the first 24 hours of multiplayer gameplay, retro map pack with two maps from Killzone 2 and a PS3 dynamic theme.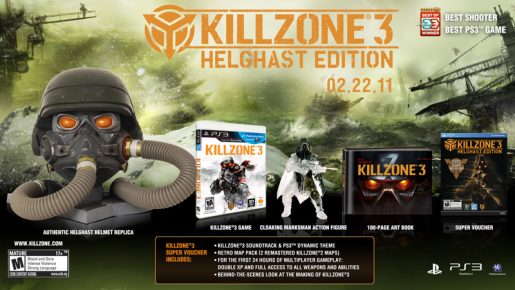 That's quite a large package and, what's even better, is that Best Buy is still listing the standard edition of Killzone 3 at $59.99. So if you're in the market to finally grab this game, the choice is obvious; Get the Helghast edition, enjoy all of its goodies, and revel in the savings.