Bleach: Soul Resurrection is a game that is based off of the manga and cartoon that airs on television. For those of you unfamiliar with the overall story of the Bleach manga , it follows Ichigo Kurosaki after obtaining the powers of a Soul Reaper and goes through his quest of protecting humans from the evil spirits and guiding the souls of the departed to the afterlife.
After playing the first two levels of Bleach: Soul Resurrection, I am not quite sure as to how much variety it will truly offer to the players. The game plays like a hack and slash but only offers the player a combo move and a spirit attack. There is also a special move and the ability to use an Ignition Attack when you power up enough. It essentially turned into button mashing through the entirety of the two levels I played. The first level that I played put me in the shoes of Ichigo Kurosaki and had me fighting my way to Huecho Mundo in order to reach Los Noches to rescue Orihime from Ulquihorra Cifer. While the visuals on the characters and enemies were colorful, this level was bland to look at and was just different shades of grey.
After playing through the first level, I was awarded with Soul Points that I could Spend to increase my health, defense, and attack power. While this can add more depth to the game by allowing you to give your character more power, it seemed a little more shallow than most other hack and slash games out there that give you the option to level things such as weapons and items to give you a wider array of attacks and abilities.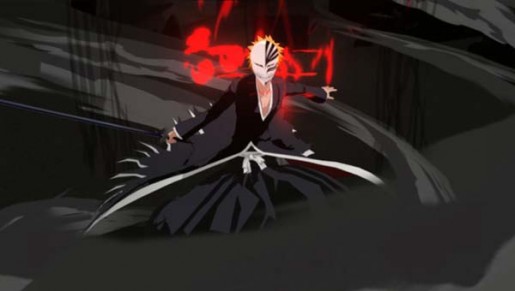 The second level in the preview let me play as Uryu Ishida and tasked me with clearing out the Castle of Hollows. Unfortunately, this level was also very bland using only a mix of blue and grey and the character was restricted to only a combo and spirit attack with a special and Ignition Attack in reserve for use when you power up enough. Both of the levels that I played were quick and easy to run through which makes me hope that they put quite a few levels in to increase the playtime. I spent about 15 minutes on each level before I had completed them.
From what I played in the preview so far, I am hoping that more moves are added in as you progress through the game and I am also hoping for some better visuals than what I saw. Seeing as this was just a preview build of the game, I will keep my hopes high that it all improves when the full game releases next month.